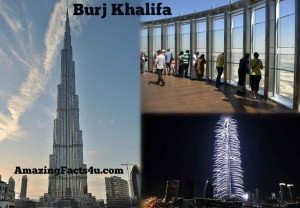 30 Amazing and Interesting Facts about Burj Khalifa | Amazing Facts 4U 
Burj Khalifa is the tallest building in the world with an architectural height of 2717 feet or 828.0 meters. Its people occupied height is 1918 feet or 584.5 meters.
The design of the tower is inspired by the shape of Hymenocallis flower. The flower is known for its long petals extending out from its center.
The total cost of building Burj Khalifa was $1.5 billion.
Located in Dubai, United Arab Emirates, this tower was initially named as Burj Dubai but was renamed to Burj Khalifa in honor of UAE president Khalifa Bin Zayed Al Nahyan. The construction work started in 2004 and was completed in 2010.
Burj Khalifa is the tallest tower in Dubai, UAE, Middle East and World beating the next tallest building by more than about 1000 Ft. It is 3 times as tall as Eiffel Tower ,15 times the highest point at Niagara Falls and 2 times taller than Empire State Building.
The tower also holds world records for: 'tallest free standing building', 'highest occupied floor', 'highest number of stories', and 'second highest outdoor observatory deck'.
Burj Khalifa holds the record of 504 metres longest travel distance elevator in the world. It has 58 functional elevators that run at the fastest speed in the world at 18 meters per second.
The observatory deck of the building is located at a height of 1483 feet or 452.1 meters , the second highest in the world. Record for highest outdoor observation deck is now held by Canton Tower which opened in 2011.
There are 163 floors located above the ground and it has only one floor located below the ground.
Burj Khalifa has highest swimming pool installed on the 76th floor, highest mosque in the world at 158th floor and tallest nightclub at 144 floors.
The building is so tall that you can see it from 60 miles away. Entire Dubai and even neighboring country Iran can be seen from top of Burj Khalifa.
At the top in Burj Khalifa temperature drops 6 degrees from base to peak and the winds at the top can reach whooping 90 miles an hour.
Burj Khalifa can accommodate 35,000 people at a time.
It has 2909 stairs from ground floor to 160 level.
Amazingly it has 11 hectares of park area.
Burj Khalifa has 37 office floors. Office space pricing at Burj Khalifa is about $3000 to $5000 per square feet.
Burj Khalifa has Armani Hotel Dubai with 160 guest rooms and suites, 144 Armani private residences and 900 Burj Khalifa residences.
Burj Khalifa has about 3000 parking spaces.
There is a dining restaurant at 122 level at 442 m height and world's second highest swimming pool at 76 level.
The Gross Floor Area of the tower is 3,331,140 ft2 or 309,473 m2. The Gross Floor Area is the area within the footprint of the tower and does not include connected buildings and adjoining podiums.
Emaar is the developer/owner of the tower and its design architect is American firm Skidmore Owings & Merill.
Turner Construction was the project manager for Burj Khalifa while Besix, Arabtec and Samsung C&T Corporation were its main contractors. Dow Corning Corporation supplied sealants for the tower while Otis Elevator Company supplied the elevators.
During peak construction days, 12,000 workers were engaged every day.
22 million man-hours, 55,000 ton steel bars and 110,000 ton concrete were used to complete the construction of the tower in 6 years.
Steel bars used in the construction of Burj Khalifa if laid down end to end, the total length would be one quarter of the earth circumference.
Total aluminum used in the tower weighs as much as five A380 aircrafts while total concrete used weighs as much as 100,000 elephants.
26,000 glass panels cut individually were used to create the exterior of the building which were fitted by 300 Chinese cladding experts to withstand Dubai's summer heat.
The building has 12 machines of 13 tons each moving along tracks constructed outside the building.36 cleaners board these machines clean the 26,000 reflective glass panels.
The antenna at the top has a length of 220 meters carrying weight of 3,500 tons.
Burj Khalifa requires a supply of 950,000 liters of water every day through 100 Km of pipelines and total electricity consumption is equivalent to 360,000 bulbs of 100-watt each burning together.
By Amazing Facts 4U Team
Share your thoughts on what this post means to you...
comments