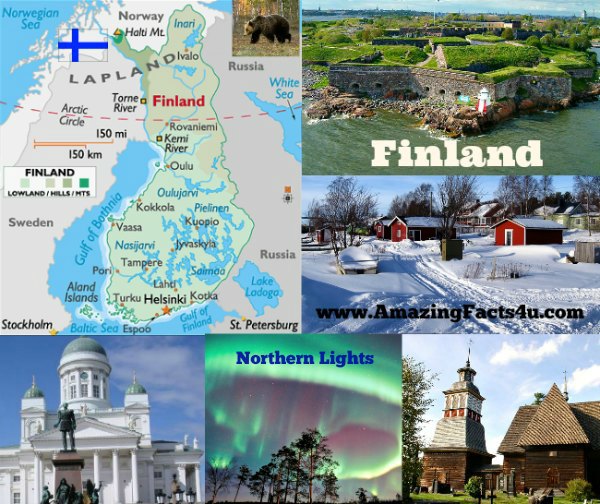 50 Amazing Facts about Finland | Amazing Facts 4U
Land &  Geography
The official name of Finland is the Republic of Finland.
Finland has an area of about 338,000 square kilometers . Forests cover 2/3 of Finland while the rest 1/3 lies in the Arctic circle.
Finland is Europe's most heavily forested country.You could build a wall around the world 10m high and 5m wide with the wood!
Population is about 5.5 million . It is the most sparsely populated country within the European Union having population density of only 16 inhabitants per km².
Helsinki is the capital and largest city of Finland.
Finland shares borders with Russia, Norway, Sweden and Russia.
Finland enjoys four very different seasons (an almost continuous 2 month day and almost continuous darkness in winter).
Finland has thousands of lakes (about 188,000) and islands (about 179,500) leading to the nickname for the country "Land of the Thousand Lakes". Both are world records. Lakes are commonly used as roads in winter.
Lake Saiima, the largest in Finland, is home to the rare Ringed Seal, of which there are only 300 in the world.
Another nickname for Finland is "land of midnight sun". During summer in June & July the sun does not drop below the horizon in the north instead shining all day and night.
In the middle of winter sun never makes it above the horizon and everything is bathed in eerie blue light called Kaamos. The event is called "Polar nights".
Forests including pine, spruce, and birch cover over 86% of Finland, making the country the largest forested area and largest producer of wood, in all of Europe.
History
Between the 12th and 19th centuries, Finland was part of Sweden empire , before it became a part of the Russian Empire until gaining independence during the Russian Revolution in 1917.
People Customs & Culture
Finnish people are in fact 100% literate.
The official languages of Finland are Finnish, native to 90% of the population and Swedish, native language to 5.4% of the population. The indigenous Sami language is an official language in the area of northern Lapland.
The Finns are the world's biggest coffee drinkers, gulping down no less than 12 kg of the black substance annually, twice more than the Italians, three times more than the Americans, and four times more than the Brits. Amazingly there is not a single Starbucks store in the country.
Santa Claus (known in Finland as Joulupukki or "Yule Goat") officially resides in a house built right on top of the Arctic circle, near the town of Rovaniemi, in the northern province of Lappland. The Santa Claus Post Office (address: Santa Claus Village, FIN-96930 Arctic Circle) receives some 700,000 letters every year from children from 198 countries.
October 13th is International Day for Failure. A new holiday intended for people to share stories of failure and learn lessons  from them. The holiday was created in Finland in 2010.
Amazing fact is that you must keep the head lights on in the car regardless of weather or time of day. It is the law since 1982.
Hevisaurus is a Finnish heavy metal children's music band, who dress in dinosaur costumes. The band was started by Thunderstone drummer Mirka Rantanen.
Amazingly there are no public payphones in Finland.
Sauna forms a significant part of the Finnish culture, and Finns take it seriously. In fact, there are 2.2 million saunas all across Finland. The sauna is to the Finn what a pub is to an Englishman.
After a hot Finnish sauna, the traditional practice is to jump into the lake outside even in the middle of winter, when you need to have a hole cut into the ice before your sauna session so that you won't be chipping ice there while you're still in your "sauna birth suit".
The word sauna is the most widely used Finnish word in the English language.
In Finland , children don't go to school until they are seven years old.
Amazingly education is 100% free. Finland's made radical reforms in education 40 years back. Educational system is widely admired for excellent results. All teachers must have master's degree and are highly respected. Teachers are selected from top 10% of the graduates. National curriculum is just broad guidelines. Students  rarely take exams or do homework until they are well into their teens. There is only one mandatory standardized test taken when children are 16. Teachers only spend 4 hours a day in the classroom. 43% of the students take up vocational courses in college.
Finland has regularly been ranked as 2nd or 3rd best country for the State of the World's Mothers by Save the Children.
Politics/ Legal
The Finnish flag is white with a blue cross.
President elected every 6 years by the people and Prime Minister is elected every 4 years by parliament's 200 members.
Finland has been a member of the EU since 1995.
Finland is one of the least corrupt and most democratic country in the world.
Finland is a huge welfare system providing Finns with a broad level of equality.
Finland's tax is said to be the highest in the world. e.g. 95% of the cost of a bottle of Vodka goes to the government.
Finland issues traffic ticket fines based on how much money you make! Police can use their cell phones to tap into official public records and find out motorists' income to levy fine.
The most expensive speeding ticket ever given is believed to be the one given to Jussi Salonoja in Helsinki in 2003. He was fined 170,000 Euros for driving 80 km/hr in a 40 km/hr zone.
Finland is the first country in the world to make broadband connection a legal right.
Architecture
The 120 km Päijänne Water Tunnel is Europe's longest tunnel and the world's second longest.
Economy
Main crops are cereals, potatoes and sugar beet
Metals and Engineering are the dominant industry. Other big industries are Cruise ships and mobile communications are two other big industries (Nokia).
The main mineral wealth of Finland is Zinc, copper, lead, silver and gold.
About 5 million people visit Finland every year limited by the weather.
Europeans are able to ski Finland all year round but in the winter months it proves too cold and unpleasant for most European skiers
Telecommunications company Nokia is from Finland, it is headquartered in Espoo, and is one of the world's largest manufacturers of mobile phones.
The longest movie ever is over 10 days long! It's called 'Modern Times Forever' and it's an experimental film that was projected on the side of the Stora Enso building in Helsinki, Finland showing the decay that would happen to that building over thousands of years, compressed into a 'shortened' 10 day sequence.
Sports
Football and athletics popular in summer, Ice Hockey and skiing popular in winter.
By gold medals won per capita, Finland is the most successful country in Olympic history. Finland is also only second to Norway for the number of Winter Olympic medals per capita.
Drivers from Finland have won more World Rally championships (14 titles) than any other country and more Formula One championships compared to their country's population.
They host a whole bunch of odd competitions, including wife carrying, mobile phone throwing, air guitar and boot throwing.
Inventions
Finnish software engineer Linus Torvalds, created the open-source operating system called Linux.
Rovio Entertainment, creators of the phone app Angry Birds are from Finland.
By Amazing Facts 4U Team
Share your thoughts on what this post means to you...
comments