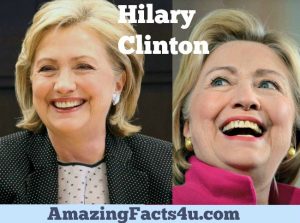 25 Amazing and Interesting Facts about Hillary Clinton | Amazing Facts 4U 
Hillary Clinton clinched the Democratic presidential nomination in 2016 and has become the first woman in the history of the United States to lead the presidential campaign for a major political party.
Hillary Diane Rodham Clinton was born on October 26, 1947, in Chicago, Illinois. She has two brothers, Hugh (1950) and Anthony (1957).
Hugh Ellsworth Rodham (1911-1993), Hillary's father, worked as a textile wholesaler.
Hillary Clinton wrote to NASA as a 14 year child in 1961 inquiring how to become an astronaut. NASA replied that girls could not be astronauts.
Her parents were Republicans. As a young adult, Hillary was an active Republican and even campaigned for Republican presidential nominee Barry Goldwater in 1964.
The Vietnam War, the Civil Rights movement in America and other influences resulted in she leaving the Republican party in 1968.
Hillary was accepted to both Yale and Harvard Law schools. A friend introduced her to one of the legendary Harvard law professors saying, "This is Hillary Rodham. She's trying to decide between us and our nearest competitor." The professor replied, "First of all, we have no nearest competitor, and secondly, we don't need any more women." Hillary decided to go to Yale.
It's amazing how she met Bill Clinton at Yale: She got up from her desk, walked over to him, extended her hand, and said, "If you keep looking at me, and I'm going to keep looking back, we might as well be introduced. I'm Hillary Rodham."
Hillary was part of the presidential impeachment inquiry of President Richard Nixon.
As a young attorney in 1974, Hillary worked for John Doar, who was the Special Counsel in charge of inquiry considering to impeach Richard Nixon during the Watergate Scandal.
Hillary and Bill, were married in a Methodist ceremony in their living room on October 11, 1975. When asked what attracted Hillary to Bill, she replied, "He wasn't afraid of me".
In 1977, Hillary landed a place at the Rose Law Firm in Little Rock, Arkansas. Founded in 1820, it was one of the oldest and most prestigious law firms west of the Mississippi River.
In 1988 and 1991, The National Law Journal named Hillary one of the 100 most powerful lawyers in America.
She gave birth to her daughter, Chelsea, in 1980 and she welcomed her first granddaughter, Charlotte Clinton Mezvinsky, in 2014.
In the early 1990s, when Bill Clinton was making $35,000 as governor of Arkansas, Hillary was making $100,000 a year from her law firm salary and corporate board fees.
Hillary was the first First Lady to hold a postgraduate degree (Yale Law, 1973) and to run for and be elected Senator (NY, 2000) and also the first women to run for presidency.
Hillary was the first woman elected to the New York senate.
When Bill Clinton became president in 1992, she became the first presidential spouse to earn a postgraduate degree.
Bill and Hillary were the only First Couple to be fingerprinted by the FBI due to filegate controversy.
In 1997, Hillary won a Grammy for Best Spoken Word Album for the audio of her book It Takes a Village.
Her autobiography Living History (2003) received a near-record advance of $8 million.
Clinton came close to defeating Barack Obama for the 2008 presidential nomination for the Democratic Party. In fact she received more than 17 million votes during the nomination process and trailed Obama by 103 delegates as the end of it.
She served as the 67th U.S. secretary of state during Obama's first term in office. She was the third female secretary of state in U.S. history.
She's the most travelled Secretary of State ever. She visited 112 countries in four years travelling almost 1 million miles.
Hillary has served on the board of Wal-Mart from 1986 to 1992.
By Amazing Facts 4U Team
Share your thoughts on what this post means to you...
comments