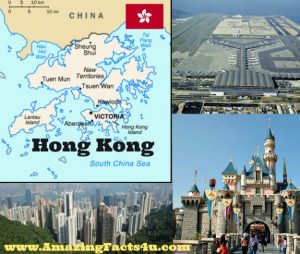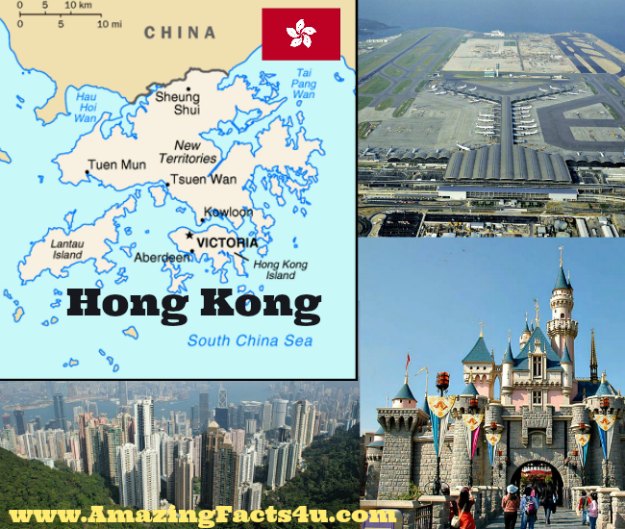 60 Amazing and Interesting Facts about Hong Kong | Amazing Facts 4U 
Land &  Geography
Hong Kong's official name is the Hong Kong Special Administrative Region, or Hong Kong SAR.  Hong Kong means Fragrant Harbor.
Hong Kong is located on China's southern coast, across the Pearl River Delta from Macau. Hong Kong borders Guangdong province in the north and faces the South China Sea in the east, west and south.
Hong Kong spans an area of 1,104 square kilometers, with 733 kilometers of coastline. Its population is about 7 million.
Hong Kong includes over 200 islands, like Hong Kong Island and Lantau, the largest island in Hong Kong along with some land reclaimed from the sea.
Three quarters of Hong Kong consists of parks, scenic areas, gardens and woodlands. It has twenty four nature parks and four marine parks.
History
Hong Kong was taken over by the British forces after the defeat of China in the Opium War of 1842.
Hong Kong was under Japanese occupation for a brief period from 1941 to 1945.
On December 19, 1984, the People's Republic of China and the United Kingdom signed the Sino-British Joint Declaration, agreeing that Hong Kong would return the People's Republic of China on July 1, 1997, after 150 years of British Rule.
On July 1st, 1997, Hong Kong became a Special Administrative Region of China. Capitalist economy, political and social systems established by British will be maintained by China for at least 50 years after the handover as per agreement.
China has the right to absorb Hong Kong in 2047, and Macau in 2049, into China proper.
Places / Architecture
It has the most skyscrapers in the world, with 8,000 buildings having more than 14 floors, almost double that of New York.
There are more than 1,200 skyscrapers in Hong Kong, which puts the city at the top. It has more buildings taller than 500 feet (150 m) than any other city in the world.
Mongkok, where one of the Ladies Markets located, in Kowloon has very high population density of 130,000 people per square km and is the busiest district in the world.
When designing and constructing a building in Hong Kong, engineers and architects take Feng Shui into consideration which involves the placement of floors, doors and stairs in various ways to ensure that the energies flow quite smoothly throughout the building.
The Peak Tram became the first cable cliff railway in Asia in 1888 and remains one of the steepest and oldest cable railroads in the world. An average of over 11,000 people ride the Peak Tram every day or more than 4 million annually.
The longest bi-cable aerial ride in Asia is Ngong Ping 360. This 25-minute, 3.5 miles ride from Tung Chung to Ngong Ping offers stunning views of Lantau Island including the Ngong Ping Village, Giant Buddha, Po Lin Monastery and Wisdom Path.
The Tsing Ma Bridge, with a main span of 1,377 metres (4,518 ft) and a height of 206 metres (676 ft) is the longest suspension bridge with both rail and road traffic in the world, 100m longer than San Francisco's Golden Gate Bridge. It links Lantau island (Location of Hong Kong Airport) , Tsing Yi and Ma Wan which were all isolated islands.
The new airport of Hong Kong is on Lantau Island. It is linked to the mainland by the Tsing Ma Bridge.
Hong Kong Disneyland which opened in 2005, is the third Disney theme park outside the US and the first in China.
It's 5,000 hectare Hong Kong Global Geopark of China is listed as part of UNESCO's Global Geoparks Network.
 'A Symphony of Lights' is a daily light and sound show in Hong Kong which is the world's largest permanent light and sound show lasting 14 minutes with searchlights and lasers streaming through 47 skyscrapers on both sides of Victoria harbor.
The Big Buddha on Lantau Island, the world's tallest outdoor seated bronze statue was unveiled in 1993.
Amazingly the outdoor covered escalator in Central is the longest in the world covering about 800m  distance. Constructed in 1993, it elevates over 135m from bottom to top taking about 20 minutes.
People Customs & Culture
Hong Kong has the highest IQ average of 107 in the world.
Hong Kong's official languages are Chinese (Spoken Cantonese) and English.
Hong kongers have highest life expectancy in the world with average age of 81 for men and 86 for women.
The union symbol of Hong Kong (with China) is the Chinese White Dolphin.
Hong Kong has more Rolls Royces per person than any other city in the world.
It has the largest fleet of double decker tram cars in the world.
Amazingly 90% of people use public transport i.e. Around five million passengers daily.
The Hong Kong's Peak Tram was the first rail tram in Asia in 1888. About 11,000 people still ride the tram every day translating into 4 million people annually.
Because the population density is so high (About 6500 people per Sq Km), schools work on two shifts a day.
It is the world's most expensive place to buy a home where HKD1.5 million buys only 500 square feet. 1 bedroom apartments in Tsim Sha Tsui are sold for almost HKD25 million.
It ended New York's reign as the home of the world's most expensive district for retailers as luxury-brand companies like Salvatore Ferragamo, Gucci, Chanel, Aigner, Christian Dior and Marc Jacobs competed for space here. The average annual rents at Causeway Bay is about HKD2,600 per square foot.
A severe lack of affordable housing in Hong Kong has forced the city's poor to live in small plywood "coffins" or iron cages, costing around US$200 a month.
For Hong Kong Chinese lucky numbers are 2, 3, 6, 8, and 9 while 1, 4, and 7 are unlucky. Because of this, many buildings do not have a fourth floor.
Octopus Cards allow users to ride various transports around the city. This store value card also allows purchases of fast food and groceries.
In Hong Kong, a License to operate a taxi costs about US$ one million. Vehicles in Hong Kong are driven on the left side of the road, unlike China's vehicles, which are driven on the right side.
Spitting in public area carries a penalty since 2003.
In Hong Kong, people are not allowed to have private firework parties.
Amazingly there are no restrictions in Hong Kong on selling alcohol to minors.
It consumes triple the world average of tea at a total of 10 million kg annual. This equates to an average of 1.4 kg of tea per person in Hong Kong per year. The world's most expensive tea available in Hong Kong is Iron Buddha at HKD20,000 per kilogram.
Eating noodles on one's birthday is considered by the residents of Hong Kong to afford one a long and blessed life.
You can get married at the McDonalds in Hong Kong. It includes a balloon wedding dress, balloon rings, venue, and of course, food by McDonalds. This costs about $2000 USD.
At funerals, Hong Kong residents burn items that they think will help the deceased in the afterlife, such as money.
Amazing fact is that due to severe overcrowding and high real estate in Hong Kong, burials in public cemeteries are exhumed after 6 years. Residents consider purchasing burial plots online plots like those at the Chinese Christian Cemetery in Pokfulam which can cost more than HKD650,000 if available.
In 2012, a Hong Kong billionaire offered $65 million to any man able to woo and marry his lesbian daughter.
The world's most expensive bottles of wine at USD232,692 per bottle were sold at an auction in Hong Kong.
Dancing is serious business especially among Hong Kong's rich ladies who are willing to pay for the best teachers in order to rule the city's charity ball circuit. It was reported in 2006 that one such individual paid HKD62 million for salsa dance lessons.
Politics/ Legal
The government of Hong Kong is based on English Common Law and is a limited democracy. While China maintains control over its foreign and defense policies, Hong Kong is allowed freedom of governance in its financial and social affairs.
Amazingly visitors to Hong Kong are only legally allowed to bring in 19 cigarettes, not packs.
Economy & Corporates
Annual tourist arrivals are about 60 million spending about $350 billion. It has been voted the Best Business City in the World for some years.
The main items that Hong Kong exports are watches, clocks, textiles and footwear.
The services industry accounts for 93 percent of Hong Kong's GDP.
Hong Kong has one of the world's highest per-capita concentrations of cafes and restaurants at one restaurant for every 600 people.
Hong Kong International Airport (HKIA) one of the world's top 10 busiest international passenger airports. It receives more than 70 million passengers, about 4.3 million tons of cargo, 1,000 aircrafts per day. Over 100 airlines link HKIA with about 170 destinations worldwide every day.
Hong Kong's Cathay Pacific has received the award from Skytrax as the world's best airline 4 times. No other airline in the world received as many times.
Inventions
Professor Charles Kao  from Hong Kong is regarded as the father of fiber optic communications which has changed the world foreever. He won Nobel Prize in Physics in 2009.
Famous Persons
Kung Fu and Martial arts are synonymous with Bruce Lee and Jackie Chan. Hong Kong is home to both of these legends of World Cinema.
Li Ka Shing is the richest man in Hong Kong. His company, Hutchison Whampoa Limited, runs one of the busiest container terminals in the world. Amazingly this company also owns the Panama Canal.
By Amazing Facts 4U Team
Share your thoughts on what this post means to you...
comments