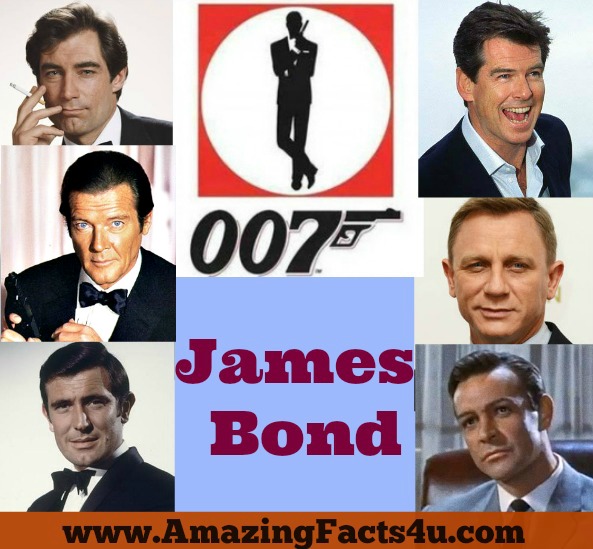 40 Amazing and Unknown Facts about James Bond | Amazing Facts 4U
Ian Lancaster Fleming (1908–1964) was an English author, journalist and naval intelligence officer, best known for his James Bond series of spy novels. He wrote his first Bond novel, Casino Royale, in 1952.
Ian Fleming named the spy James Bond after an American bird expert Dr James Bond.
Ian Fleming in fact  was one of the most important special agents in WWII.
James Bond is actually half Scottish and half Swiss. In the Bond novels, James' parents ,  Andrew Bond Scottish man and Monique Delacroix-Bond Swiss woman die in a climbing accident in the French Alps, orphaning him at the age of 11.
James Bond is a heavy smoker, at one point smoking 70 cigarettes a day. Ian Fleming himself smoked up to 80 cigarettes a day.
A visit to Jamaica during World War II inspired Ian Fleming to buy an estate there, which he called Golden eye. Fleming wrote many of his 14 novels there and, long after Fleming's death, it became the namesake of the 17th Bond film – Pierce Brosnan's Bond debut.
Amazingly Adam West, Clint Eastwood, and Burt Reynolds were all offered the role of James Bond, and all of them declined, believing that James Bond should always be played by a British Actor.
The role of James Bond has been played by 6 actors (Daniel Craig, Sean Connery, Timothy Dalton, George Lazenby, Pierce Brosnan and Roger Moore).
The latest Bond movie, Skyfall, stars Daniel Craig. Craig, 44 is the first Bond actor to have been born after the Bond series began in 1962.
Bond's code '007′ was inspired by the bus route that runs from Canterbury to London, which was often taken by the author Ian Fleming.
Sean Connery wore a toupee in all of his appearances as James Bond as he started balding at the early age of 21.
Sean Connery's martial arts instructor on Never Say Never Again was none other than Steven Seagal, who accidentally broke Connery's wrist in training.
Amazing Fact is that there are two James Bond movies with the same plot, Never Say Never Again and Thunderball. Sean Connery played James Bond in both films, 18 years apart.
Sean Connery is the most popular and beloved James Bond and 1964's Goldfinger is by far, the most popular Bond film. This was the first Bond film to have 007 driving his famous Aston-Martin and the first to have Bond using his legendary gadgets and gimmicks.
Goldfinger was the first film in history to feature a laser beam.
Amazing Fact is that George Lazenby wasn't an actor. He got himself a suit, a Rolex and a new haircut, met the producer and made up movies he had been in and got the roll as James Bond.
George Lazenby is generally regarded as the least-liked 007. After Connery left the series in the late 1960's, George Lazenby was given the role as his successor Bond in 1969's On Her Majesty's Secret Service. Lazenby was then the world's highest-paid male Australian model in 1968.
While under contract to play James Bond, Pierce Brosnan wasn't allowed to wear a tuxedo (Dinner Suit) in any non-Bond film.
Pierce Brosnan in fact married one of the Bond girls in For Your Eyes Only , Cassandra Harris. Sadly she died of cancer before his first movie as James Bond was released.
James Bond has killed 352 people in 22 films and Pierce Brosnan was the deadliest Bond. He killed 47 people in Golden Eye. Sean Connery was the biggest pacifist, dispatching a mere four men in Dr. No.
Amazingly each scene that shows Roger Moore running in his seven Bond films was performed by a body double.  Moore felt he looked awkward when running.
It's amazing that Roger Moore portraying James Bond has a fear of guns dating from his days of British military training when a gun exploded in his hands.
The gun made popular by James Bond, the Walther PPK, is the same model that Hitler used to kill himself.
For his time as James Bond, Daniel Craig has the privilege of taking any Aston Martin from the factory for the rest of his life.
All the actors who played James Bond in the past have been 6'1″ to 6'2″ except Daniel Craig who is 5'10″.
James Bond has been shot at 4,662 times during his career in movies.
Maud Adams portrayed two different bond girls. She played the soft-hearted girlfriend of The Man with the Golden Gun and also took the  female lead in Octopussy.
Shirley Bassey in fact sang The Title Song for three James Bond films : Goldfinger, Diamonds Are Forever, and Moonraker.
Oct. 5, 2012, marked the 50th anniversary of Bond's first onscreen appearance, at the London premiere of Dr. No. (1962) . There have been 23 Bond movies so far including the latest one "Skyfall" in 2012.
Amazingly Bond is one of just seven 00 agents spying for the British, but he has the best knack for staying alive. 002–Bill Fairbanks, killed by The Man with the Golden Gun. 003–Found dead in the snow at the beginning of A View to a Kill. 004–Killed during a training exercise in Gibraltar during the opening scene of The Living Daylights. 006–Alec Trevelyan, treacherous double-0-turned-villain killed by Bond in GoldenEye. 009–Murdered, while wearing a clown suit by knife-wielding assassins in Octopussy. Besides Bond, only the unnamed 008 proves to be a skilled agent declared as Bond's replacement . It's unclear why no 001 or 005 have ever been mentioned.
Stuntman Bob Simmons is the figure whose silhouette was used by designer Maurice Binder when Sean Connery was unavailable for the opening gun barrel sequence for the first three James Bond movies.
Q's real name was Major Geoffrey Boothroyd.
President John F. Kennedy was a huge James Bond fan. He viewed an early print of 'From Russia with Love' at the White House on Nov 21st, 1963. It was the last film he ever saw as he was killed the very next day in Dallas.
The producer of the James Bond movies is a woman. She casts Bond, his girls and decides on the stories. Barbara Broccoli has been in the business for 30 years, leading the most successful cinema franchise.
Amazing fact is the five pilots flying the planes in Pussy Galore's Flying Circus in Goldfinger were actually men wearing blonde wigs.
The existence of MI6, the agency with which James Bond works for in the movies, wasn't officially acknowledged by the British government until 1994.
Harry Saltzman, the man who produced several of the early Bond films along with Broccoli, worked for the US State Department during World War II as a high-ranking intelligence officer who had to keep his actions a secret for as long as he lived.
Aston Martin factory only uses only one robot which applies adhesives to bond aluminum body panels together and is nicknamed "James Bonder"
In Daniel Craig's James Bond films, M's real name is Olivia Mansfield.
If you type "James Bond" into Google Translate and have it translated to Standard Chinese, it will translate to "007".
By Amazing Facts 4U Team
Share your thoughts on what this post means to you...
comments