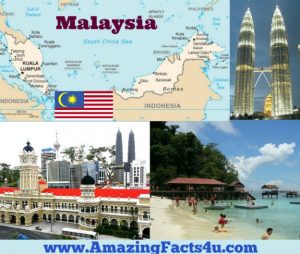 60 Amazing and Interesting Facts about Malaysia | Amazing Facts 4U 
Land &  Geography
Malaysia has a population of over 29 million people. There are 878 islands in Malaysia.
Malaysia is made up of two main landmasses, Peninsular Malaysia and Malaysian Borneo, they are separated by the South China Sea.
The Capital of this Country is Kuala Lumpur, and means"Muddy Estuary" in the Malay language and it´s the Largest City. Putrajaya city has the government offices.
Malaysia shares land borders with Thailand, Indonesia, and Brunei, and is linked to Singapore by a causeway and bridge.
Malaysia is made up of two main landmasses, Peninsular Malaysia and Malaysian Borneo, they are separated by the South China Sea. Malaysia has over 200 separate islands.
Mount Kinabalu in the Crocker Ranges, is the tallest mountain in Malaysia at 4,095 mtr (13,436 ft) above sea level.
Malaysia contains a cave that is 100 km long and is considered the longest in south east Asia
Tanjung Piai in sounthern Johor is the southernmost tip of continental Asia.
Flaura & Fauna
Sabah in Malaysia has the largest flower in the world called the Rafflesia. It really smells horrible.
Malaysia is one of 17 megadiverse countries on Earth. It is estimated that Malaysia contains 20% of the world's animal species.
There are total of 28 national parks in Malaysia.
The national animal of Malaysia is the endangered Malayan tiger.
The largest insect egg in Malaysia comes from the 15 cm Malaysian Stick Insect which lays eggs that measure 1.3 cm, larger than a peanut.
Malaysia has one of the world's largest populations of king cobras .The longest King Cobra in the world, measuring 5.54 metres, was captured alive in Port Dickson in April 1937 but later grew to 5.71 metres in captivity in London Zoo.
The largest undivided leaf in the world, Alocasia macrorrhiza, comes from Sabah. Amazingly a specimen found in 1966 was 3.02 metres long and 1.92 metres wide.
One of the indigenous fruits found in Malaysia is the pomelo (Citrus maxima), which is the largest citrus fruit in the world. It can reach the size of a small football weighing 1 to 3 kg.
The oil palm in Malaysia produces the highest yield of oil per hectare compared to other vegetable oils. It is the most consumed and the cheapest edible oil in the world.
Orangutan, or "man of the forest" in Malay, is humans' closest relative and Asia's only great ape. Orangutans can be found only in the wild in Borneo and Sumatra. They have unusually long arms about one and a half times longer than the legs.
History
The Japanese invaded Malaysia on December 6, 1941, the same day they bombed Pearl Harbor. They landed at Khota Baru and stole bicycles in every town they took on their way to Singapore, making the trip in 45 days.
Captain Tristram Speedy, who was acting British Resident for Perak, was responsible for bringing in the first batch of 110 Sikhs to Malaya in 1873.
Places / Architecture
Lembah Bujang in the foothills of Gunung Jerai is believed to be the location of an old Malay Langkasuka empire, holding ruins that may date back 1,500 years.
The largest cave chamber (Single Room) in the world is the Sarawak Chamber in Gunung Mulu National Park in Sarawak. The corridor of Deer Cave, a 1-mile-/1.6-km-long passage of the caves, could house five rows of eight Boeing 747 jetliners parked nose to tail.
Malaysia's Taman Negara (literally, "national park") is one of the oldest rainforests on Earth. At 130 million years, it is older than the tropical rainforests of the Amazon and the Congo Basins. It supports more than 10,000 species of plants, 1,000 types of butterflies, 140 types of animals, 350 bird species, 100 kinds of snakes, and 150,000 kinds of insects. It has a size of 4,343 sq km.
Right in the heart of Kuala Lumpur you can see a rainforest which is Bukit Nanas Rainforest Reserve covering only around 10.5 hectare among the smallest rainforest patches on earth.
Penang Free School is the oldest English school in Southeast Asia, founded by Rev. Sparke Hutchings in 1816.
Penang's St. George Church, built in 1818, is the oldest Anglican church in Southeast Asia.
The first railroad in Malaya was between Port Weld (now Kuala Sepetang) and Taiping, built by the British in 1885 covering a distance of 13.6 km.
The Petronas Towers are twin skyscrapers in Kuala Lumpur. They were the tallest buildings in the world from 1998 to 2004 and are still regarded as the world's tallest 'twin' buildings. The two buildings are joined by a sky bridge at levels 41 and 41, which are 558 feet (170 m) off the ground.
At 421 metres high, the Kuala Lumpur Tower is the fourth tallest in the world and tallest in Southeast Asia.
The Penang Bridge is the third longest in Asia at 13.7 km.
The World´s biggest round about is located in Malaysia at Putrajaya with  3.5 km in diameter.
By using the Malacca Strait instead of the Lombok Strait in Indonesia, ships can save about 1,600 km or 3 days.
People Customs & Culture
Malaysia´s official religion is the Islam, with around 61% practicing it. Almost 20% practice Buddhism and the rest Christianity and Hinduism.
The official language of Malaysia is Malaysian. English remains a widely used second language.
Bahasa Malay, the official language of Malaysia, has no written script of its own. Malaysia uses English letters instead for script.
The national day of Malaysia is called Hari Merdeka. It occurs on August 31 each year to celebrate Malaysia's independence from British colonial rule in 1957.
Some buildings in Malaysia do not have a 4 th floor. They are replaced by "3A" as the sound of four (sì) is similar to the sound of death in Chinese.
Like Japan it is customary to remove your shoes when entering a Malaysia persons home as a sign of respect.
In Malaysia, it is generally considered rude to point at people or things with the index finger. A bent index finger or thumb is used to point in the right direction.
Malaysia is a multi-ethnic and multi-cultural country. Along with the many indigenous cultures, substantial influences from Chinese, Indian, Persian, Arabic, and British cultures have taken place.
Malay brides wear their engagement rings on the 4 th finger of their right hand. The ring is placed there by a senior female relative of the groom, instead of the groom himself.
Among the Iban community on Malaysia's Sarawak province, before a newborn baby is named, they are affectionately called ulat ("worm"), irrespective of their gender. When the baby is named, they must be named after a deceased relative. When the parents have chosen a few names, rice balls are made, each representing a name. The first rice ball pecked at by a fighting cock determines the child's name.
Traditional Malaysian artworks include caved wooden masks, handwoven baskets, and silverworks.
The national drink of Malaysia is a hot milk tea called Teh tari, and the national dish is called Nasi lemak, it is a fragrant rice dish cooked in coconut milk, often served wrapped in a banana leaf, and usually eaten for breakfast.
Malaysia shares with Qatar the world's lowest death rate of respiratory diseases, at 7.5 death per annum per 100 000 people.
Politics/ Legal
Malaysia achieved Independence from the United Kingdom on 31 August 1957.
Singapore declared independence from Malaysia on 9 th August 1965 when Malaysian parliament voted in favor of expulsion of Singapore from Malaysia 126-0 in 1965.
Malaysia has nine distinct royal families, or hereditary state rulers, the highest number in the world. The Malaysian king is elected from these for a 5-year term as ceremonial head of state.
"TUN" is the most senior federal title and there can be no more than 25 living recipients at any one time.
The Malaysian flag was adopted on Sept 16,1963 designed by Mohamed Hamzah, a 29-year old Public Works Department architect.
Local time has been adjusted in peninsular Malaysia a total of 8 times. The last time change was effected on January 1, 1982.
Caning is still a common punishment under the Malaysian law , maximum strokes restricted to 24. Women can never be caned, nor can boys under the age of 10 or men over 50, except for rape.
This country is very strict with possession of drugs. You can be punished by death.
The states of Sabah and Sarawak have their own immigration laws, so a passport is required for all Malaysians when travelling between East and Peninsular Malaysia.
Economy 
Bursa Malaysia, formerly known as the Kuala Lumpur Stock Exchange, dates back to 1930 when the Singapore Stockbroker's Association was set up to deal in securities in Malaya.
The currency of Malaysia is called the Ringgit. The word ringgit means "jagged" in Malay, which refers to the jagged edges of Spanish silver dollars that used to be used in the region.
Malaysia is the world's third largest natural rubber producer producing about a million metric tons of rubber. It is the world's largest supplier of rubber gloves.
Malaysia produces the best quality (lightweight, low sulphur) and the most expensive crude oil in the world.  It is called 'Malaysian Tapis Blend 44°'.
Sports
Popular sports played in Malaysia include football, badminton, field hockey, bowls, tennis, squash, martial arts, sailing, horse riding, and skateboarding.
5 out of 6 Malaysia's Olympic medals were for men's badminton; the other one was for diving.
By Amazing Facts 4U Team
Share your thoughts on what this post means to you...
comments