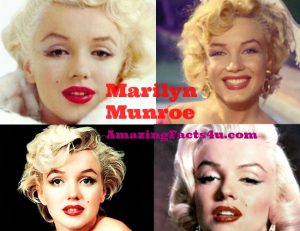 30 Amazing and Interesting Facts about Marilyn Munroe | Amazing Facts 4U 
Marilyn Munroe was born Noma Jeane Mortenson.
Her childhood was not pleasant. Her mother Gladys, was institutionalised and she lived in an orphanage and had eleven different sets of foster parents. She almost spent a year in the Children's Aid Society Orphanage in Los Angeles.
Monroe's first marriage, to neighbor James Dougherty when she was 16, took place as a means of keeping her from being sent back to a state-run orphanage after one of her many foster families could no longer care for her. Later she married playwright Arthur Miller in 1956.
In fact Marilyn Munroe owed her first big break to Ronald Reagan. During World War II in 1945 , Captain Ronald Reagan thought it would be a great morale booster for the troops to see some pictures of some pretty factory girls. She was 19 year old working in Radioplane company owned by Reagan's friend where her photogenic face attracted experienced photographer.
She began her career as a model before starting movie career in 1946.
She had several minor roles including appearances in 'All about Eve' and the 'Asphalt Jungle' in 1950 going on to get lead roles in 'Don't Bother to knock in 1952' and 'Niagara' in 1953.
"Niagara" is the only movie she made in which her character dies.
She once roomed with Shelley Winters who was 6 years senior sharing intimate secrets. In fact Winters was instrumental in persuading Monroe to move to New York and study at the Actors' Studio.
A fact not very well known is that she was extremely well read. Her personal library at the time of her death contained over 400 volumes.
Marilyn Monroe had an IQ of 168, higher than that of Albert Einstein.
She was a jogger in the early 1950s long before jogging became popular. She also lifted weights as part of her exercise regimen.
Marilyn Monroe underwent plastic surgery on her chin and nose early in her career.
Monroe had an off-screen life that was quite different from her public image. She was known to dress quite modestly regarding her screen image as a character, someone very different from herself. When she was living in New York, if she went out without makeup , people found it difficult to recognize her.
She wasn't fond of diamonds or expensive jewellery. Most of her jewellery was in fact costume jewelry with the sole exception of a string of pearls and a diamond ring given to her by Joe DiMaggio, her second husband.
In fact Monroe had a stutter all through her childhood and into her teens disappearing later on. The stutter returned during the filming of her final movie, 'Something's Got to Give' due to the stress she was undergoing.
Amazingly despite all the acclaim that she received for her acting abilities, Marylyn Monroe never received an Academy Nomination.
Monroe was infamous in Hollywood for being chronically late to movie sets and struggling with her lines.
Her famous dresses are worth millions. The skin tight dress , so skin-tight that she had to be sewn into it that she wore when she sung happy birthday song to John F. Kennedy sold for over one million dollars in 1999 and her white dress from the movie 'The Seven Year Itch', sold for an amazing 4.6 million in 2011.
 It's amazing that Marylyn Monroe was only paid fifty dollars for the famous nude photographs that appeared in Playboy magazine. These photos were to be used in calender and were originally taken in 1949 by photographer Tom Kelley. Hugh Heffner bought the photographs years later for $500 and used them in the inaugural issue of Playboy Magazine in 1953, and he went on to make millions.
She was an early devotee of yoga her teacher being Indra Devi, a Swedish-Russian Bollywood film star.
Marilyn had a fixation on Clark Gable, her co-star in The Misfits. As a young girl, she dreamed that he was her father. When he died, she couldn't stop crying for two days.
Her mother Gladys told her that her father was Gladys' boss, Charles Gifford, who looked like Clark Gable. Monroe never met him and never knew for certain who her father was.
She desperately wanted to become a mother when was married with Arthur Miller, but, unfortunately she had an ectopic pregnancy and a miscarriage.
Marilyn owned many dogs during her life , the last being a Maltese terrier given to her by Frank Sinatra which kept her company for 2 years after her break up with Arthur Miller.
Amazingly in the last years of her life, Monroe was seeing a psychoanalyst almost daily.
She wrote an autobiography "My Story" published a decade after her death.
Her untimely death from an overdose of barbiturates in 1962 was really shocking for the entire world.
Before her death, Monroe made her husband, Joe DiMaggio, promise that he would leave flowers on her grave every week after her death. He kept that promise for 20 years and half a dozen roses were delivered to her grave 3 times a week.
Several of the burial vaults near to Marilyn's have been put on sale. When Elsie Poncher, the widow of the man in the vault above Marilyn's, put his space up for sale on eBay, she received highest bid of $3.5 million.
Hugh Hefner owns the burial vault next to Marilyn at the Westwood Memorial Park in Los Angeles. He bought it in 1992 for $65,000.
By Amazing Facts 4U Team
Share your thoughts on what this post means to you...
comments