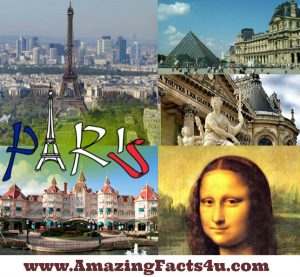 45 Amazing and Interesting Facts about Paris | Amazing Facts 4U 
Paris is the political, cultural, and intellectual capital of France
Paris is the single most visited city in the world, visited by about 25 million people per year.
Paris was founded in the 3rd century BC by a Celtic people called the Parisii, who gave the city its name.
By the 12th century, Paris was the largest city in the western world and also a prosperous trading center.
The oldest house in Paris is located at 51 de la rue de Montmorency and dates from 1407.
The first book printed in France, Epistolae ("Letters"), by Gasparinus de Bergamo, was published in Paris in 1470.Since then, Paris has been the center of the French publishing industry.
Almost all the books published in Paris in the Middle Ages were in Latin, rather than French.
Paris was one of the first European cities to adopt gas street lighting. In 1820, 56,000 gas lamps were placed to light up the streets presenting a breathtaking night view of Paris and gained the nick name "City of Lights"
The City of Paris largely retains its one and a half century old boundaries, with an area of 105 km² and a population under 2.5 million.
The Eiffel Tower is 276m high and was created by Alexandre Gustav Eiffel in 1889.  He also built the internal frame of the Statue of Liberty in 1885. It was to be taken down after the World Fair of 1889. It has about 2.5 million rivets in it's frame.
Amazingly at the start of the 20th century, Paris had a zoo full of confined humans brought in from their colonies in Madagascar, India, China, Sudan, Congo, Tunisia and Morocco. Over a million people used to visit this zoo.
There is a Statue of Liberty in Paris that faces the Statue of Liberty in America, symbolizing the friendship between the two countries. The size is only 1/3 of the original. It was given to the French people in 1889 by the American community in Paris standing on a small island in the Seine.
During WWI, France built a 'Fake Paris' near the capital city to confuse German pilots.
Guy de Maupassant (the famed French writer) ate lunch at base of Eiffel Tower almost each day reasoning that he hated the Eiffel Tower the most and that was the only place in the whole Paris from which he could not see it.
Paris and Rome are exclusive sister cities, seeing no other city as equal counterparts. The two use the motto: "Only Paris is worthy of Rome; only Rome is worthy of Paris."
It took 666 years to build the Louvre.  It was originally built as a palace but is now the most visited art museum in the world.
Louvre houses over 35,000 works of art and 380,000 objects and would take 10 months to look at every single item. The famous Mona Lisa painting is on display here.
Before the Nazi armies invaded Paris during World War 2, the Louvre was vacated and its contents were secretly distributed among wealthy French citizens, who hid them in their houses around the country.
Hitler gave orders to destroy Paris on the eve of the allied liberation in 1944, but the Nazi General in control of Paris intentionally ignored the order saving the city.
By law, no buildings cannot exceed six stories in Paris to make sure that ample sunshine is available to all.
The French Resistance cut the elevator cables to the Eiffel Tower to keep Hitler from visiting it during his visit after Paris fell. When faced with the prospect of climbing more than 1500 stairs, he opted out.
There is a man in Paris, who invites complete strangers to his house for a dinner party each week. He has been doing this for more than thirty years. You got to register on his website first to be invited.
Right before World War II, Madame de Florian fled to southern France, locking her apartment and leaving behind everything she owned.  She never returned, and for over seventy years, the room collected dust as rent was paid faithfully on time. She died at 91. A painting worth 2 million Euros was discovered inside.
The Hollywood Movie Count of Monte Cristo was likely based on the true life events of a man, who was wrongfully imprisoned by his friends, found a hidden treasure whose whereabouts were revealed to him by a dying priest, and later returned to Paris under a false name to pay vengeance on his accusers.
There is a population of kangaroos living in the wild in the township of Émancé, about an hour outside of Paris which have descended from a breeding population that escaped during a failed burglary attempt at an animal park in the 1970s.
When the mummy of Ramesses II (Egyptian king) was flown to Paris in 1974, it was issued a passport that listed his occupation as "King (deceased)".
Amazing fact is that the largest French-speaking city in the world is not Paris or Montreal but Kinshasa, the capital of the Democratic Republic of the Congo with a population of over 10 million.
Paris is the home of the world's largest cosmetics company, L'Oréal, and 3 of the 5 top global makers of luxury fashion accessories; Louis Vuitton, Hermés and Cartier.
The Paris sewer system in fact matches the streets above it. It is cleaned by rolling giant stone balls down it.
All the trees in Paris are referenced and measured. And there are about 500,000 of them.
Each summer, the banks of the Seine are turned into a beach. Tons of sand are brought up the river by barge and spread along the little road that runs alongside the Seine. A suspended swimming pool over the river provides a safe swimming area. The concept was invented in 2002 to cater for those who could not afford to get away to the beach.
Amazingly in the whole of Paris, there is only one stop sign, situated at the exit of a building company in the rich 16th arrondissement (Administrative Division). The traffic system in Paris is mainly based on giving way to those coming from the right.
Notre Dame Cathedral, gets even more visitors than the Eiffel tower.  The main bell in the tower, called Emmanuel, weighs more than 13 tons.
There are 6,100 streets in Paris shortest being just 5.75 meters.
Paris has 328 metro stations in the city center and 384 stations in total.
Amazingly Paris has 300 kilometers of underground catacombs. The Catacombs were created about 200 years ago because the graveyards had become overcrowded and smelly. The bones were all moved by cart at night after being blessed by a priest and carefully stacked and arranged in the old limestone mines beneath the city. It took 70 long years.
To visit catacombs, you have to go down a spiral staircase which takes you 65ft beneath the City.
Paris is the fashion capital of the world.  However, any woman walking down the street could be arrested for wearing pants until January 31, 2013. The bizarre law was to ban pants was created in 1800, after the French Revolution lasting for 213 years in the books.
There are around 9,100 open terrace restaurants, bars and cafes in Paris. Paris also has about 1,800 bakeries.
Disneyland Paris which opened in 1992 attracts 15 million people every year.
Disneyland Paris has been visited by 250 million people so far. It contains 2 amazing theme parks (Disneyland Park and Walt Disney Studios Park), 7 Disney themed hotels, shops, a nightclub and a cinema complex.
Plaster of Paris, used to make a cast if you fracture your bone was invented in Paris. It comes from a powdered rock called gypsum plentiful in the hills around Paris which used to be mixed with water, to create miniature sculptures before casting their masterpieces in bronze.
Paris authorities regularly gives out medals to parents who have successfully raised several children with dignity.
Amazingly there are more dogs in Paris than there are children, around 300,000 dogs. They are properly cared for.
China tried to build a city that was a replica of Paris, right down to the replica Eiffel Tower, but now it has turned out to be a ghost town.
By Amazing Facts 4U Team
Share your thoughts on what this post means to you...
comments