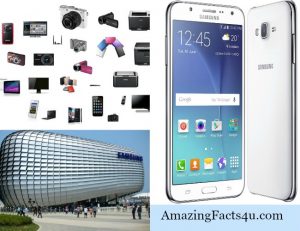 35 Amazing and Interesting Facts about Samsung | Amazing Facts 4U 
Samsung is the world's largest IT company.
The founder of Samsung Lee Byung chull had high ambitions for his company founded in 1938.
The company's name choice built from the Korean words sam (three) and sung (stars) meant three stars representing something "big, numerous and powerful".
Samsung initially sold groceries & noodles with just 40 employees. It added insurance & securities business in late 1950s.
Samsung introduced 12 Inch Black & white TV in 1970. The first Samsung computer came in 1983 followed by the first cellphone in 1985.
While the Samsung logo changed a few times prior to the 70s, after this, it has changed only three times until the current logo introduced in 1993.
In 1995, Chairman Kun hee Lee was frustrated with the product quality and lack of commitment for this. With the aim at creating greater understanding of the importance of products' quality, he gathered 150,000 phones, TV and fax machines in piles. Lee and his board of directors then proceeded to destroy all these products, even employing heavy to break the cases and screens. Lee made sure that his 2000 employees watched the show marking a new era of superior quality. In the process $50 million worth of hardware was destroyed. Quick growth and global success has continued since then.
Samsung was in fact pioneer in introducing SCH-100 in 1996, using CDMA technology. It had some real advantages over GSM.
In 1999, Samsung was the first pioneer to build a watch that also doubled as a phone called the Samsung SPH-WP10 which could not only tell time, it also could make phone calls for up to 90 minutes. After that, the battery would run out.
Samsung introduced the first "PDA phone" with a color display in the US market in 2001 called the SPH-i300.
Amazingly the Samsung Group has 59 unlisted companies and 19 listed. They often compete with one another. These companies range from constructions to financial services, ship building, and medical. It employs over 320,000 people across 84 countries.
Samsung overtook Japanese Sony as most popular electronics brand in 2004.
Samsung is currently the largest smartphone manufacturer shipping about 335 million smartphones followed by Apple and Huawei.
Samsung shipping division builds 30 large ships per year. It has massive four million square foot shipyard.
Samsung's construction division in fact built the Burj Khalifa the tallest building in the world. It has also built Taipei 101 & Petronas Tower-2 as primary Contractor.
Samsung is known for very aggressive advertising more than any other company. It's advertising budget is mindboggling $14 billion for the revenue of more than $300 billion.
Amazingly CPU chips for all Apple 4,45,5,5s are solely manufactured by Samsung. They number about 600 Million a year.
70% of smartphones in the world contain DRAM manufactured by Samsung. Since 1993, Samsung Electronics has been the largest producer of memory chips in the world.
Samsung lists 145 products on its web site under the "cell phones" category. In contrast Apple has three phones in two different colors.
To make sure the best quality products, 90% of the company's products are manufactured in Samsung's own factories.
One out of every three smartphones sold all over the world bears Samsung brand on it.
Samsung accounts for 17 percent of Korea's Gross Domestic Product.
Amazingly Samsung has been the top selling TV maker in the world for last ten straight years having about 28% market share.
There are 100 Samsung TVs being sold in every minute.
Samsung is also No. 1 manufacturer of refrigerators in the world.
Samsung Techwin made first fighter jet of South Korea named KF-16. It also manufactures helicopters & jet engines.
Samsung Techwin also built K9 thunder which is anti-infantry tank that can target up to 40 km.
Samsung has also built SGR A1 robotic machine gun that can identify & shoot target 3.2 km away.
Samsung owns South Koreas largest theme park called Everland.
Samsung donates $100 million to non-profit medical center every year which employs 1200 doctors & 2300 nurses.
There are 33 Samsung's R&D centers all over the world.
In fact, Samsung Group produces around one fifth of South Korea's total exports.
Samsung has 60 % of mobile market of South Korea while apple has 14%. In contrast in US, Apple has 40% share while Samsung has 26%.
Samsung spends amazing $40 million daily for research & development.
Samsung files about 5000 patents in US (2nd) and about 2500 (1 st) in European Union every year.
By Amazing Facts 4U Team
Share your thoughts on what this post means to you...
comments