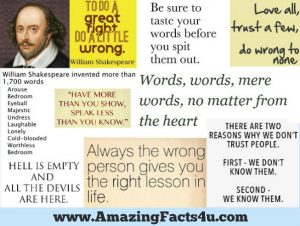 30 Amazing and Interesting Facts about Shakespeare | Amazing Facts 4U 
Amazingly

even though Shakespeare is so well known, his exact and actual date of birth is not known.
Other than what is found in a few church records and legal documents and in a few contemporary documents, most evidence of Shakespeare's life is circumstantial. Very little is known for certain.
By tradition, it is generally supposed that Shakespeare was born on April 23, 1564. April 23 is the national day of England. The same date is given as Shakespeare's death in 1616 at the age of 52. Year 2016 was marked as his 400th death anniversary.
Shakespeare was born under the old Julian calendar, not the current Gregorian calendar that was created in 1582 and adopted in England in 1751. What was April 23 during Shakespeare's life would be May 3 on today's calendar.
Shakespeare's father, John, was a leather-worker who rose through a series of positions of authority until, in 1568, he became high bailiff, the highest elective office in Stratford. He was also a money lender and was accused of lending money at exorbitant rates. All of Shakespeare's family members were illiterate.
Shakespeare was baptized on April 26, 1564, in Stratford-upon-Avon, just three days before the Stratford parish register recorded an outbreak of the plague.
William Arden was a relative of Shakespeare's mother and was executed for plotting against Queen Elizabeth 1.
Anne Hathaway (Shakespeare's wife) was three months pregnant when they got married. Shakespeare was eight years younger than his wife.
William and Anne Shakespeare had three children. Susanna was christened in May 1583, and the twins Judith and Hamnet in February 1585.
Shakespeare's son, Hamnet, died in 1596. His daughter Susanna died in 1649. His younger daughter Judith had 3 children, but all died before their mother and without children. His granddaughter Elizabeth, daughter of Susanna, died childless in 1670, ending the William Shakespeare line.
Shakespeare is credited with writing 38 plays and 154 sonnets. "Romeo and Juliet", 'Macbeth' and 'Hamlet' are his best-known works.
Shakespeare never published any of his plays himself. Many politicians and authors don't believe that Shakespeare himself wrote all his plays. As per recent research as many as 17 plays of his had Christopher Marlowe as co-writer.
Amazingly more than 80 spelling variations are recorded for Shakespeare's name, from "Shappere" to "Shaxberd."
In the few signatures that have survived, Shakespeare spelled his name "Willm Shaksp," "William Shakespe," , "William Shakspere,"  etc but never "William Shakespeare."
There is no evidence for what Shakespeare did between 1585 and 1592, the period when he moved to London and began his writing career. Thus, there is no record of how his career began or how quickly he rose to fame.
Shakespeare is listed as an actor on documents from 1592, 1598, 1603, and 1608. It is supposed that he played mostly unassuming parts, such as the ghost in Hamlet, to allow him more time to write.
In Shakespeare's time, theaters had no curtain and used little or no scenery. Playwrights described the setting within the text of the performance.
Elizabethan theatergoers could purchase apples and pears to eat during the show. These snacks were often thrown at the actors by dissatisfied members of the audience.
In February 1599, the land for the Globe theater was leased to Cuthbert and Richard Burbage as well as five other members of the troupe, including Shakespeare, for 31 years. Shakespeare's share of the lease varied over the years, from one fourteenth to one tenth.
The Globe burned to the ground on June 29, 1613, set fire by a cannon shot during a performance of Shakespeare's Henry VIII.
In 1603, Shakespeare's company became the official player for King James I and renamed themselves The King's Men.
In 1608, The King's Men opened the Blackfriar's Theatre, the template on which all later indoor theaters are based.
In 1609, Thomas Thorpe published Shakespeare's sonnets for the first time apparently without the poet's permission. Almost nothing is known about when the 154 sonnets were written.
Many of Shakespeare's sonnets are love poems addressed to a beautiful young man, suggesting the poet's bisexuality.
Shakespeare's works contain first ever recordings of more than 1700 English words invented by him including bedroom, eyeball, majestic, critical, frugal, excellent, undress, barefaced, cold-blooded, assassination, and countless etc.
The First Folio, the primary source for most of Shakespeare's plays, was published by the last of the Lord Chamberlain's Men, John Heminges and Henry Condell, in August 1623. It is the only source for 18 of Shakespeare's plays, which would otherwise be lost.

Amazingly

Hamlet survives in three versions: 1603 version of 2,200 lines, a better 1604 version of 3,800 lines, and the First Folio edition of 1623 with 3,570 lines. Some scholars believe that the 1603 version is most likely the one closest to the actual play.
Shakespeare's work also contains excellent phrases like vanish into thin air, play fast and loose, foul play, tower of strength, flesh and blood and with bated breath etc. recorded for the first time.
Shakespeare died on April 23, 1616. In his will, he left most of his real estate to his daughter Susanna. The only thing he left for his wife was one bed with bedclothes.
Shakespeare is buried near the altar of Holy Trinity Church, where he was baptized, in Stratford-upon Avon. 
By Amazing Facts 4U Team
Share your thoughts on what this post means to you...
comments