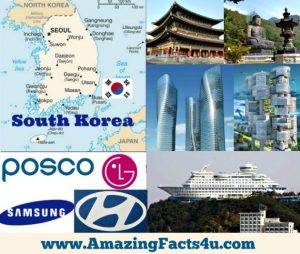 60 Amazing and Interesting Facts about South Korea | Amazing Facts 4U 
Land &  Geography
The name "Korea" comes from Goryeo, which was the name given to the dynasty established by General Wang Geon in AD 918. Goryeo means "high and clear."
South Korea has population of about 49 million. The land area is 98,190 Square Km. South Korea is southern part of 1,200-kilometer-long Korea peninsula located in the easternmost part of the Asian continent.
South Korea is a crowded country, with about 500 citizens for every square km. Seoul is the capital of South Korea having population more than 10 million.
Flora & Fauna
The Mugunghwa (Rose of Sharon) is South Korea's national flower. It is a type of hibiscus and is represented in the national anthem.
The crane is a symbol of good fortune in South Korea. Red-crowned cranes can stand about 5 feet (1.5 m) high.
History
People have been living in Korea for at least 10,000 years. Archaeologists believe the ancestors of today's Koreans came from Mongolia and Siberia.
Korea's first kingdom was Old Chosun, which ruled the northwest and parts of China for more than 22 centuries. In 108 B.C. it was overthrown by Chinese armies, and three new kingdoms emerged: Koguryo, Paekche, and Silla. In the A.D. 660s, the Silla, with the help of Chinese troops, won control of the country.
By A.D. 901 Korea had once again broken into three kingdoms. In 936, a powerful noble named Wang Kon unified the country under the name Koryo. This kingdom lasted until 1392, when the Yi family seized the throne and began the Choson dynasty, which ruled until 1910.
In 1894, Japan and China sent soldiers to put down an uprising in Korea. Afterward, they and Russia fought for control of Korea, which Japan won in 1910. When Japan lost in World War II, its territories, including Korea, were taken over by the Allies. Soviet troops occupied the North Korea while U.S. troops stayed in the South Korea.
In 1950, the communists in the north invaded the south, sparking the beginning of the Korean War. The war raged until 1953, and more than 2.5 million Koreans, Americans, Chinese, and others died. The war was never officially ended, and the Koreas remain divided and ceasefire has since been upheld. It was the first major military conflict between the United States and the Soviet Union backing South and North Korea respectively.
Places / Architecture
South Korea is home to Cheomseongdae Observatory, the world's first astronomical laboratory, built during the mid-600s at Gyeongju.
South Korea's Yoido Full Gospel Church has the biggest congregation in the world. The Seoul-based Pentecostal Christian church had close to 1 million members. On any given Sunday, 200,000 faithful will attend 1 of 7 services and an additional 200,000 to 300,000 will watch on TV and in satellite churches.
Seoul attractions include futuristic Dongdaemun Design Plaza, a convention hall with curving architecture and a rooftop park, Gyeongbokgung Palace, which once had more than 7,000 rooms and Jogyesa Temple, site of centuries-old locust and pine trees.
On Jeju, South Korea's largest island, giant stone statutes known as dol hareubang (old grandfather) can be found along the beaches. Newlywed women believe that if they touch the statues' long, broad, noses, they will be blessed with child.
Since 1998, millions of people from around the world have flocked to South Korea's Boryeong Mud Festival, originally conceived as a way to advertise mud cosmetics, where for ten days' people enjoy mud massages, mud photo contests, mud marathons, and mud wrestling contests.
People Customs & Culture
The South Korean people are one of the most uniform populations in the world related to the Mongoloid racial groups, including the Chinese. They share much in common with the Chinese, Mongolians, and Japanese, whom they still do not like after the Japanese invasion during World War II.
South Koreans work hard clocking about 55 hours a week compared to the 40-hour week of the average factory worker in the USA.
Koreans, both North and South, speak and write the Hangul language. It consists of 14 consonants and 10 vowels, and the alphabet can be combined into various syllables.
Christmas is an official holiday in South Korea, with almost 1/3 of South Koreans being Christians.
The most common family names in South Korea are Kim, Lee and Park. More than 20% of South Koreans have the last name Kim.
South Korean wedding garments are usually red, which is a symbol of good fortune.
South Korea's national dish is kimchi, which is a combination of vegetables and spices that have been fermented underground for months. It can be served with almost everything. The first written description of making kimchi dates back to about AD 1250 and there are about 250 varieties. Most restaurants, including McDonald's, will deliver food straight to homes in South Korea via motor cycle drivers. Korean distilled rice liquor, is the best-selling liquor in the world.
South Koreans love Honey Butter Chips, which are potato chips flavored with honey and butter from France. South Koreans love sweet potatoes so much that there is every possible dish flavored with sweet potato, including main courses, desserts, chips, bread, salads, and sweet potato-topped pizza.
Amazingly in Korea, babies are considered one-year-old at birth.
Only 3.2% of South Koreans are overweight, which ties the country of Japan for the lowest percentage in the world.
Amazingly South Korean men love makeup, spending close to US$1 billion a year, or 25% of the world's men's cosmetics. Up to 20% of the male Korean population is reported to use makeup regularly.
When a Korean's name is written in red ink, this indicates that that person is about to die or is already dead.
Like Chinese, South Koreans consider the number 4 as unlucky associated with death.
South Korea is the largest market for plastic surgery per capita in the world. It is estimated between 1/5 and 1/3 of the women in Seoul have gone for at least one cosmetic surgery. Eyelid surgery is one of the most common plastic surgery procedures performed in South Korea by wealthy young South Koreans for their 16th birthday as a gift to make their eyes appear more Western.
South Korea is famous for its practice of "crime re-creation." Citizens suspected of crimes such as rape or murder are led by the police in handcuffs to the scene of the crime and ordered to publicly reenact the crime. The media is also invited to take pictures and publish details about the crime.
Both the tiger and rabbit are important Korean folk symbols. Koreans say the Korean Peninsula is shaped like a tiger and rabbit. Both animals are found in Korean folktales and folk art.
South Koreans believe that leaving an electric fan on overnight will kill the person sleeping directly below it. Companies design fans with timer inside.
South Koreans love shopping, and the country has some of the biggest shopping malls in the world which are open until 4:00 in the morning, while most restaurants, bars, and cafes are open only until 11:00 p.m.
80% of the South Korean population had a smartphone, the highest percentage in the world. Among 18- to 24-year-olds, 98% have a smart phone.
All South Korean roofs are curved at the ends giving the appearance of a smile.
Accidentally pushing the wrong elevator floor button is no problem in South Korea. Elevators are smart here. You can easily click the same button again to deselect your wrong choice.
Playing the online video game StarCraft is a legitimate career in South Korea. Since it's launch in 1988, nearly half of all the games have been sold in South Korea making it one of the best-selling games for the personal computer in history. Amazingly there are also cable channels devoted solely to the game.
About 15% of the people between the ages of 9 and 12 have an Internet addiction and South Korea has passed a law called the Shutdown, or Cinderella, Law that bans anyone younger than 16 from online game sites, which is mostly ignored.
Love motels are very popular in South Korea rented by the hour or for a night. They feature tiny, themed rooms with outrageous decorations for couples. They are so trendy and clean for tourists and business people on a budget.
Instead of air heaters, Koreans have heated floors called ondol (warm stone), the heat is passed in pipes under the floor. This heating system goes back to the Koguryo Dynasty (37–668 BC). More than 90% of the houses have ondol, and people eat, sleep, and watch TV on the warm floor.
On the South Korean island of Jeju, women traditionally go out to work while their husbands stay home. These women are called haenyeo ("sea women"), and they dive for sea urchins, abalone, and octopus, continuing a tradition that goes back 1,500 years.
Valentine's Day in South Korea is celebrated with a difference. It is a day where women show their love for their men by giving chocolates and gifts to their husbands or boyfriends. On March 14, Koreans celebrate White Day, where men buy gifts for their ladies but they are supposed to spend three times the amount they received on Valentine's Day.
About 2.1 million South Koreans live in U.S. cities such as New York, Chicago, and Seattle. It started with the first migration in 1903 and they lived on the Hawaiian Islands working on sugar and pineapple plantations.
For the Harvest Moon Festival, more than 20 million South Koreans travel to their hometowns to visit the graves of their ancestors and bring gifts such as fine foods to place on the graves.
More than 2 billion people have viewed the "Gangnam Style" music video of Korean pop artist Psy since 2011. It topped the charts in 30 countries around the world. The song refers to the Gangnam District of Seoul.
Politics/ Legal
The Demilitarized Zone (DMZ) was built on top of the demolished village of Panmunjom during the Korean War. It divides North and South Korea and is one of the most heavily militarized borders in the world. It is 2.5 miles (4 km) wide and stretches 152 miles (245 km) from the East Sea to the Yellow Sea.
South Koreans are automatically classified at birth according to their blood type, which is a custom that originated in Japan but has become very important in South Korean culture which may determine your future spouse. Group B is the least desirable group.
Taxis in South Korea are color coded according to the level of experience for the service. A gray or white taxi is a basic car with a qualified but potentially inexperienced driver, while the black cabs are luxury cars with experienced drivers.
South Koreans are the world's biggest users of credit cards making about 130 transactions per year.
Married Koreans used to face up to two years in prison if they had extra marital affairs, or got involved with a married person as per 1953 law and thousands were convicted. The law was repealed in 2015.
Guns don't exist in the public domain and are permitted for police and government security and not for general public.
In 2012, a prison in the South Korean city of Pohang became home to the world's first robotic prison guards. The country also uses robots to guard the Demilitarized Zone (DMZ) between North and South Korea and as teachers.
Economy & Corporates
South Korea currency is Won.
Amazingly the microchips for Apple's iPhones are made by it's rival, the South Korean company Samsung.
South Korea has the world's fastest wireless speeds on the planet, with an average download speed 33.5 megabits per second, nearly three times the average speed of second-place Hong Kong. The country also has an average upload speed of 17 megabits per second. Amazingly 100% percent of South Koreans have broadband access.
South Korea harvests more than 90% of the world's seaweed consumption.
South Korea has some of the largest companies in the world. Samsung Electronics is the world's biggest technology firm by revenue, and the largest-listed company in South Korea. It was founded in 1969 and is the now the world's biggest maker of memory chips, smartphones and televisions. Samsung Life Insurance is biggest life insurer in South Korea with about 26 percent of local market share. Hyundai Motor is the world's fifth-biggest carmaker and the top automaker in South Korea. Posco is the world's fourth-biggest steelmaker. Kia Motors is second-largest automaker and a subsidiary of the Hyundai Motor Group. LG Chem is South Korea's largest chemical maker. The group has big consumer division. Hyundai Heavy Industries is the world's largest shipbuilding company. SK Hynix is the world's second largest memory chipmaker.
Sports
South Korean martial art taekwondo is the country's most famous sport. It literally means "the way of the fist and foot." It most likely started around 2,000 years ago. It is practiced worldwide today and became an official Olympic sport in 2002. It is the only Olympic sport that has originated in South Korea.
Korean wrestling, can be traced back to 37 BC. It started as a competition between villagers before it became a martial art. Today, it is a televised sport with matches performed in stadiums. Two wrestlers try to push each other out a ring of sand.
South Korean women excel at golf boasting 38 out of the top 100 female golfers in the world, and 9 of the current top 25, are South Korean. Lydia Ko set the world record in 2013 for the youngest woman ever to win a professional tournament, at age 14. She was also the youngest golfer of either gender to be ranked #1 in the world.
By Amazing Facts 4U Team
Share your thoughts on what this post means to you...
comments