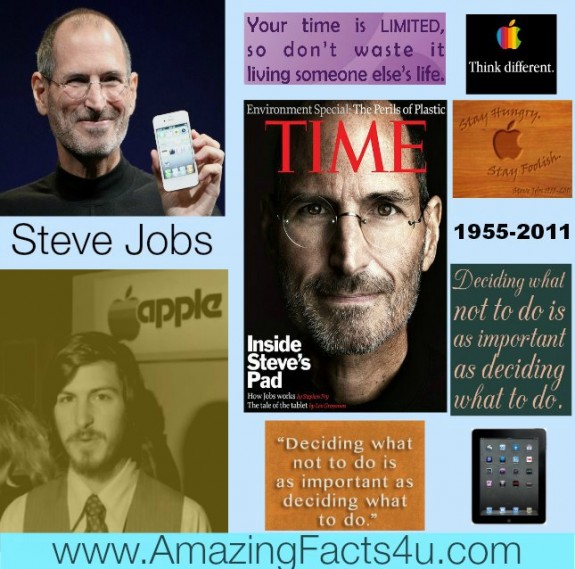 35 Facts about Steve Jobs | Amazing Facts 4U
Steve Jobs' biological father was Abdulfattah Jandali, a Syrian Muslim professor of political science. His biological mother was Joanne Carole Schieble, an American. Her father, however, objected to the marriage so Steve was put up for adoption.
The one requirement his biological parents had was that he be adopted by two college educated people. His adoptive parents were Clara and Paul Jobs.
His biological parents went on to have another child, Mona Simpson, whom he later met and connected with.
Jobs met Apple co-founder Steve Wozniak in high school when Jobs was just 13 and Wozniak was 18.
Before starting Apple, Steve Jobs and Steve Wozniak built and sold digital blue boxes, a $100 equipment that could illegally hack telephone systems and allowed them make calls to any number in the world. Amazingly one of their first calls they made using the blue box was to the Vatican with Wozniak pretending to be Henry Kissinger. They asked to talk to the pope without success.
Jobs lied to Steve Wozniak. When they were hired to build the first prototype of "Breakout" for Atari, Wozniak and Jobs were going to split the pay 50-50. The pair stayed up four days straight to finish the game and so were given extra bonus. Atari gave Jobs $5000 to do the job. He told Wozniak he got $700 so Wozniak took home $350.
Jobs dropped out of college. After graduating from Homestead High School in Cupertino, California he went on to study at Reed College in Portland, Oregon in 1972. He only took one semester of classes before dropping out.
Steve Jobs calls one of the mysteries of life how his friend and Apple's Co-founder Steve Wozniak never built a floating point BASIC for the Apple II, despite Jobs having begged him for several weeks to do it. As a result of Wozniak's refusal, Job reached out to Microsoft to license Bill Gates' BASIC.
Apple had three founders, not two. The company was founded in 1976 by Steve Jobs, Steve Wozniak and Ronald Wayne.
The first Apple logo was drawn by Ronald Wayne who also wrote the original partnership agreement and the Apple I computer manual. Amazing fact is that he sold his 10% stake two weeks into the partnership for just $800.
Because of his appalling personal hygiene, Steve Jobs was asked to work the night shift at Atari.
Jobs was a pescetarian which meant he ate fish but no other meat.
Steve Jobs in fact became a vegan due to his belief that this diet would eliminate his need to bathe regularly.
Every Apple Macintosh from 1984 to the early 90s had Steve Jobs' and his team's signatures engraved on the insides of their cases.
Steve Jobs tried to donate a computer for every school in America. When the government did not collaborate as they thought it was marketing idea to get children to use macs. He donated them to the 10,000 schools in California.
Jobs purchased Pixar Animation Studios from George Lucas in 1986.
Steve Jobs wasn't interested in and was on the verge of selling Pixar, up until the huge success of "Toy Story," when he took all the credit.
Steve Jobs halted all philanthropic activities by Apple 15 years ago saying they would "wait until they are profitable" and never resumed them.
Steve Jobs fathered an illegitimate child with Chris Ann Brennan and denied paternity and even went on to refute paying child support for 2 years. The child did turn out to be his daughter who was named Lisa. He later named the "Apple III" computer Lisa after his first born.
Jobs never used license plates on the silver Mercedes SL55 AMG he always drove. He would always park in the handicap parking zone.
Amazingly Steve Jobs' shares in Disney were worth double his shares in Apple.
Steve Jobs used a loophole in the UNOS registration system to get his liver transplant before others.
When the Westboro Baptist Church announced via Twitter that they would protest Steve Job's funeral, they tweeted it from an iPhone.
Steve Jobs' faith in alternative remedies is what cost him his life. Steve Jobs was buried in an unmarked grave.
In 1997, Steve Jobs used his patents to pressure Bill Gates into investing $150 million into Apple, because he believed Apple would go under if Microsoft didn't have "a stake in our success."
Steve Jobs was the "anonymous party" that sold 1.5 million shares of Apple stock in 1997 causing Apple to hit a 12-year low in stock price. That event lead to a boardroom coup of CEO Gil Amelio and placed Steve Jobs as new CEO of Apple.
When asked why he had named his company Apple, he said: "Because it came before Atari in the phone book." Jobs worked for Atari before starting Apple and he also said that he likes apples and that they had to come up with a name by 5 o'clock that day.
Steve Jobs kept his salary at $1 since 1997, the year he became Apple's lead executive. Of his salary, Jobs joked : "I get 50 cents a year for showing up, and the other 50 cents is based on my performance."
Steve Jobs and Steve Wozniak were pretty certain that their chances of success were minimal in initial years.  "We won't see the money we've invested in back," said Wozniak. Jobs replied: "Yeah, we'll lose our money, but at least we will be able to say we had a company."
When he returned to Apple in the mid 90s, Steve Jobs donated Apple's first computers, machines, blueprints to Stanford University clearing up the old to make space for the new.
His Religion was Zen Buddhism. He went to India to meditate and learn about a simpler way of life.
He was very private about his marriage. His wife was Laurene Powell Jobs and they got married in Yosemite national park on March 18, 1991. His wife is an MBA graduate of Stanford and was appointed by President Obama to be a member of the White House Council for Community Solutions.
Jobs felt betrayed by his former apprentices from Google after the company entered the phone market with its Android devices. He said "Apple didn't enter the search business, so why did Google get into the phone business?"
The Apple Macintosh computer was named after an actual apple, the McIntosh, because this was Jef Raskin's (an Apple employee working on the Macintosh project) favourite variety.
After ending a long battle with pancreatic cancer, Jobs' last words were "Oh wow. Oh wow. Oh wow" while looking over the shoulders of his family. Mona Simpson, his sister revealed this.
By Amazing Facts 4U Team
Share your thoughts on what this post means to you...
comments