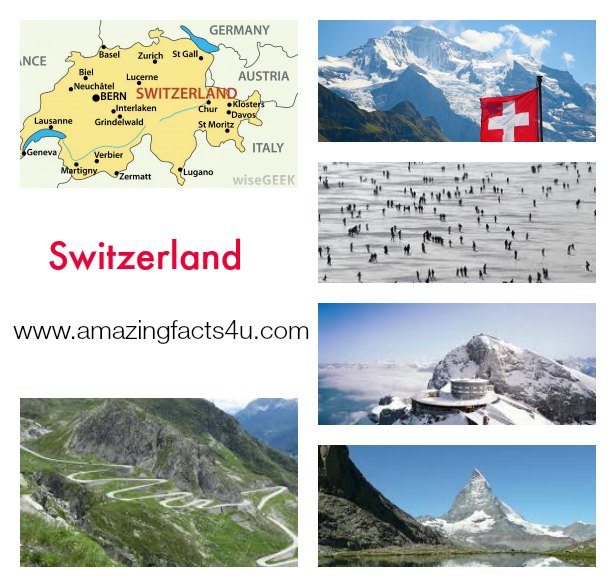 70  Facts about Switzerland  (Part 2) | Amazing Facts 4U
Customs & Culture
Public transport runs like clockwork with no delays. You can ride on many public transit systems (bus, light rail) without buying a ticket as ticket inspections are rare.
There are more banks than dentists.
There are now more Starbucks coffee shops than banks!
Amazing fact is every post office is a bank.
You will find bank tellers protected by bullet-proof glass in Switzerland.
Teaching is one of the highest paid occupation with the most vacation time: 12 weeks!
In Switzerland the fuel economy is measured in "quantity per distance" (liters per 100 km). In the US, it is measured in "distance per quantity" (miles per gallon).
In Switzerland, it is illegal to keep just one guinea pig. You got to have them in pairs.
It is in fact virtually impossible to lock yourself out of an office or apartment because almost all doors only lock with a key . Almost all doors have handles, not knobs.
Amazing fact is a child's name must be on an approved list. Swiss parents do not have the freedom to name a kid. Resident foreigners can be exempted from this rule, but you must obtain an official statement from an embassy that attests that the name is acceptable in the other country.
Amazingly home owner and apartment dweller insurance policies state clearly that you are covered for theft even if you have left the doors or windows unlocked.
You can be fined if you do not properly maintain the appearance of your property (house, car, etc).
Amazingly house loans / mortgages can be taken out for periods up to 100 years.
In order to use shopping carts in a supermarket, you have to deposit a CHF 2 coin in slot on top of the cart, which releases the chain by which the cart is attached to the next one. When you return the cart to its place , you get your coin back. All stores are usually closed by 7 pm.
In Switzerland, alcohol is not sold in stores after 9 pm.
Almost all apartment buildings have assigned laundry times. In general, you are assigned a specific half day slot per week .
In Switzerland, if you fail your practical driver's license test 3 times, you are required to consult an official psychologist to assess the reasons for your previous failures before you are allowed to retake the exam.
There are photo radars on the auto routes and in many towns. If you are captured on film , the police mail you a ticket . If you protest and demand the photo, you have to pay a bigger fine .
Traffic fines for serious offences are based on a percentage of your income. If caught speeding in a residential area, you can actually spend the night in jail !
In fact license plates are issued to individuals. If you sell the car and buy a new one, you keep the plate.
Whenever a new building or house is being constructed, there is always a fixed crane at the site.
Amazingly very few places have air conditioning.
If you own any radios or TVs capable of receiving broadcasts ,you have to pay a monthly tax (TV/Radio license).
FM radio stations are on both even and odd frequencies.
The common way to pay bills is to pay everything at once for all the expenses. The bills are standardized red or blue forms. When you are ready to pay  , you collect all the bills together and either fill out, mail a single form to your bank, or take everything to the post office. You can also use the automatic Multimat at the bank to pay the bills by inserting the colour-coded forms into the slot, where they are scanned.
The profession of most people in fact is listed in the phonebook, just after their name.
Swiss mailboxes have two slots – one for letters, and one for packages.
The police clean up after car accidents. Once they have collected all the relevant information (photos, chalked outlines of where the accident occurred, etc.) and after the vehicle(s) have been removed, the police take broom and dustpan from their trunks and sweep up.
Amazing fact is you can make it a condition of your work contract to be allowed to keep dogs in your office. One woman at a well-known business school keeps two Labrador retrievers in their own beds under her desk.
Politics/ Legal
The last legal execution of a witch was in 1782.
Switzerland outlawed the death penalty earlier than any country in the world in 1790. For serious offences it will instate multiple life sentences.
Amazingly after World War I a law was enacted that every home and citizen should have access to a bomb shelter within a mile from their residence. Still there are enough bomb shelters to accommodate the entire population.
The Swiss military keeps fully stocked artillery bunkers, disguised as quaint country homes, in the middle of populated villages.
Switzerland has no single Head of State. It instead has a seven-member executive council, which serves as the Swiss collective head of state.
The president of Switzerland in fact changes every year.
There are 26 cantons in Switzerland, each of which acts as a state, with its own constitution, legislature, government and courts.
Amazing fact is if Swiss citizens do not agree with a law passed by Parliament, the law can be put up for national vote .Before such voting, the concerned citizens must be able to get 50,000 signatures challenging the law within 100 days after the law was passed. Likewise, constitutional amendments can be challenged if 100,000 signatures can be gathered within 18 months. Voters decide by a simple majority whether to accept or reject the law.
Switzerland  is the only country, in fact the first country to implement such direct democracy involving public petitions and the referendum.
Switzerland does thing differently. They have no national flower, animal or motto.
Switzerland's flag is square compared to other countries that are rectangular.
Switzerland joined the United Nations only in 2002.
Swiss guards are considered the highest trained military personal in the world. The Swiss Guards have been traditionally entrusted to protect the Vatican.
Amazingly by law, you need to buy a liability insurance sticker for riding a bicycle on public roads.
It was once against the law to slam your car door!
Amazing fact is it is illegal for Islamic followers to build a mosque in Switzerland. However, private home practice is not forbidden of any religion.
Amazingly men in Switzerland are required to keep the firearms they are issued during their military service at home even after they leave the military to prevent any home break ins and to have the countries men ready to mobilize in the event of a threat.
One of Switzerland's main defence strategies is to demolish every main access into the country via roads, bridges, and railways. There are in fact at least 3,000 locations currently prepared to blow at a moment's notice in case of an attack.
Every citizen is required by law to own a bomb shelter or access to one.
Switzerland, which is often praised as a model for direct democracy, did not in fact grant women the right to vote in any of the elections until 1990.
Fact is assisted suicide is legal in Switzerland. It is also legal in Belgium, Luxembourg, Netherlands, and three American states (Oregon, Washington, and Montana).
Swiss citizenship can be obtained after 12 years of residence in the country.
Economy & Corporates
In fact there are more financial institutions in Switzerland then there are doctors. Financial doctrine in Switzerland is very strict. Many individuals use Switzerland as a tax haven from other countries.
70% of the population is employed in the service sector: trade, health, education, finance and insurance.
The Swiss currency is not the euro, but the Swiss franc (CHF).The Swiss franc is among the world's most stable currencies due to the monetary policy of Switzerland banks.
In Switzerland, in any company the director must be the citizen of Switzerland. There is a profession of the nominal director. Swiss passport holders can earn decently doing nothing.
Switzerland's rail system is the densest railway system in the world with 3107 miles of tracks.
The Swiss rank only second behind Japan in relying on trains for transport.
About 56% of Electricity generated in Switzerland is from hydroelectricity and another 39% from nuclear power, resulting in a nearly CO2-free electricity-generating network.
The Swiss have a long tradition of watch making, and are the undisputed leader in luxury watches, with brands like Audemars Piguet, Baume et Mercier, Breitling, Chopard, Franck Muller, Jaeger-LeCoultre, Longines, Patek Philippe, Piaget, Rado, Rolex, TAG Heuer, Tissot, or Vacheron Constantin etc.
Vacheron Constantin was founded in Geneva, Switzerland in 1755 and is the oldest watch manufacturer in the world with an uninterrupted history.
Switzerland is known for its exotic and expensive watches but it is also known for the cheapest watches made by the swatch.
Sweden's Ingvar Kamprad, founder of furniture chain Ikea, remains Switzerland richest resident for the tenth year his assets valued at 35 billion Francs.
Nestle the world's largest food and beverage company was founded in Switzerland and has its headquarters in Vevey. The first bar of chocolate was produced here in the year 1819.
Some of the world's most famous companies are Swiss, such as Adecco (Human Resources), Credit Suisse (Banking), Lindt & Sprüngli (Chocolate), Logitech (Electronics), Mövenpick (Hotels), Novartis , Roche (Pharmaceuticals), Richemont (Luxury goods), Schindler (Lifts/Elevators), Securitas (Security), UBS (Banking),  Winterthur (Insurance) etc.
Swiss army knives were painted red so that if they could be easily found in the snow. Switzerland now produce more multi tool knives than any country in the world. Only part outsourced is corkscrew tool which is made in Japan.
Rapidshare's file hosting servers are located in an underground bunker in Switzerland.
Red Cross was founded in Geneva in 1863 and is still based there. Flag of the Red Cross is the flag of Switzerland with the colours inverted.
Inventions
The wristwatch was invented by Patek Philippe in 1868.
Albert Einstein was working as a patent clerk in Bern , Switzerland when he proved his Theory of Relativity.
The typeface "Helvetica" was created in Switzerland.
By Amazing Facts 4U Team
Share your thoughts on what this post means to you...
comments