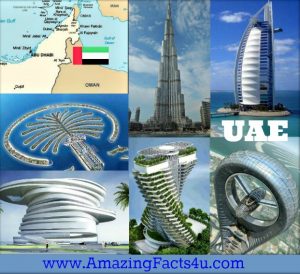 60 Amazing and Interesting Facts about UAE (Part II) | Amazing Facts 4U 
People Customs & Culture
There are hundreds of mosques in Dubai and the call to prayer can be heard throughout the city. Hotel rooms have arrows pointing in the direction of Mecca just in case.
Since 2006, the Dubai and UAE weekend has been Friday-Saturday, as a compromise between Friday's holiness to Muslims and the Western weekend of Saturday-Sunday.
More than 3,000 taxis operate within Dubai making an average of nearly 2,00,000 trips daily. There is also a Ladies Taxi service for female passengers, employing female drivers.
Although English is widely used, Arabic is the official language of Dubai and the United Arab Emirates and Islam is the official religion of Dubai and the UAE.
Petrol is cheap and easy to come by costing around $0.50 per liter.
In Dubai, you must obtain a "liquor license" to drink from the privacy of your own home.
There are almost 5,000 ATMs located throughout the UAE.
Among the people living in Dubai, mobile penetration is about 150% i.e. 3 mobiles for every two persons.
Radio is a very popular medium in Dubai, but it must follow strict rules. It is illegal to talk about the Royal family, politics or sex on air.
The internet was first available in Dubai and the UAE in 1995. Internet content is regulated throughout the UAE, and a proxy server filters content that is inconsistent with the values of the country.
All sorts of American fast food restaurants have branches here including KFC, Burger King, Subway and Dunkin Donuts.
Dubai celebrates two major holidays including Eid al Fitr, which marks the end of Ramadan, and the December 2 National Day, which celebrates the formation of the United Arab Emirates.
Big festivals like Dubai shopping festivals, luxury car parade, and an exclusive mustang parade showcases of high standard of living in Dubai.
Their air conditioning is not just inside the buildings, it's also at bus stops.
Amazing fact is that Dubai has no address system, no zip codes, no area codes and no postal system. For a package to be sent properly, the sender would have to leave proper directions to the destination in the space provided. People have to get P.O boxes to receive regular mail.
Amazingly Dubai has no sewer system, instead they use poop trucks to haul the entire cities' excrement away.
Health care is not provided free to expatriates living or working in Dubai, and private hospitals and clinics are quite expensive. Have adequate health insurance.
When the Palm Atlantic opened in 2008, the entire circumference of the Palm Jumeirah was lit up in a spectacular display of pyrotechnics. The $20 million show cost $3 million more than the fireworks used for the opening of the 2008 Beijing Olympics which was up to then, the most expensive display ever.
After the global financial crisis in 2008, many exotic cars were abandoned all over Dubai and its airport as most of these cars were bought with easy credit during the boom and the owners were unable to meet car payments.
Politics/ Legal
The UAE was established on 2 December, 1971 which is celebrated as National Day.
Dubai is one of the seven emirates that make up the country known as the United Arab Emirates or the "UAE." Established in December, 1971, the seven emirates of UAE are Abu Dhabi, Ajman, Dubai, Fujairah, Ras al-Khaimah, Sharjah, and Umm al-Quwain.
Each emirate is governed by an absolute monarch; together the monarchs make up the Federal Supreme Council. One of the seven monarch is selected as the President of the United Arab Emirates.
Dubai and Abu Dhabi are the only two of the seven emirates to have veto power over critical matters of national importance in the United Arab Emirates legislature.
Because of the monarchy, there are no political parties in the country.
Working hours reduce to 6 hours a day during Ramadan for Muslims and non-Muslims alike. Eating in public is also strictly prohibited during fasting hours.
Sharing a private space with a member of the opposite sex when not related by family ties or marriage is forbidden. Private space would be a house, room, hotel room and even car.
You can't stay in a hotel if you're under 18 years old and not accompanied by an adult.
UAE region is tax free. No one here is required to pay any kind of personal or income taxes! There are absolutely no forms to fill, and no claims to make.
Emiratis are provided with free education, free medical and free housing. However, lately their subsidies have been cut back and they have been encouraged to get mainly government jobs and tourist positions.
In UAE swearing and indecent gesturing is forbidden and you can be fined or imprisoned. Any aggressive hand move is considered indecent. Moving your thumb up and down hoping to catch a hitch hike is not done and pointing at something or someone is considered impolite.
It is a crime to take pictures of others without permission. Any person being captured on camera in any public space in the UAE can be produced in court and fined. Beware of taking pictures of other women and families.
Taking photos of government buildings which have signs prohibiting photography is to be avoided. In fact, any form of hobby that involves cameras, binoculars or telescopes may well be misunderstood by officials if practiced anywhere near a government building, military site or airport.
Dubai is one of the safest city as laws in the UAE are based on Sharia law which results in almost zero crime rate. It has the death penalty for serious crimes such as murder, rape, and treason. Homosexuality, cross-dressing and adultery are all subject to severe punishment.
Sentences for drug trafficking can include the death penalty and possession of even the smallest content of illegal drugs can lead to a minimum 4 year jail sentence. The Emirati authorities amazingly count the presence of drugs in the blood stream as possession.
Possession of painkillers like codeine and some cold and flu medication could result in a mandatory 4-year prison sentence. Keep your medicines in their original containers and bring a letter from your doctor as a well as a copy of your prescription with you.
Distributing and preaching non-Islamic religious material to Muslims is punishable by imprisonment and deportation.
Bouncing a cheque or non-payment of a bill is taken very seriously resulting in imprisonment and/or a fine. Non-residents of the UAE arrested for fraud are not usually eligible for bail, and convicted debtors usually have to remain in jail until the debt is either paid or waived.
Kissing in public in Dubai is strictly illegal and can result in deportation.
Sex outside marriage is not allowed and you will end up in jail up to six years or more. Engaged with boyfriend excuse is not allowed.
The rapist is only punished by law if there are four adult male witnesses to the crime of rape else the complainant can be tried for extra marital sex.
Only non-Muslims are allowed to consume alcohol, and only within licensed venues such as hotels or at home with the possession of an alcohol license.
The Dubai police fleet includes a Lamborghini, Ferrari and Bentley. This is to allow them to catch speeders who can outrun other cars.
The Dubai police has a bagpipe band imitated from Scottish people.
The United Arab Emirates donated a laptop to every high school student in Joplin, Missouri, after the city had been devastated by a tornado.
Economy & Corporates
The currency of Dubai is the dirham.
Oil wealth was used to develop the UAE into one of the world's most open and successful economies. More than 90% reserves of Oil & Gas are located in Abu Dhabi.
Currently sales of oil constitute only 6% of Dubai's economy. The local economy is mainly based on real estate and tourism and financial services. Dubai has one of the world's fastest growing economies, with a growth rate of 6%.
About 70 per cent of the UAE's daily oil production is shipped by pipeline to Fujairah, avoiding the potential bottleneck at the Strait of Hormuz. The pipeline can move 1.8 million barrels of oil per day to the storage facilities on the Gulf of Oman.
The Dubai International Airport (DXB) handles more than 70 million passengers per year. Dubai is the hub for Emirates Airlines, the national airline of Dubai. It flies to 142 destinations in more than 70 countries across six continents.
Emirates airline operates the largest fleet of the world's largest airplane, the Airbus A380. And it was the first airline in the world to provide an on-board shower for its passengers.
Emirates and Etihad have placed firm orders for 100 superjumbo Airbus A380s meaning that the UAE is home to more of the double-decker planes than anywhere else in the world which shall be catered by a dedicated terminal the first in the world for its A380s.
Technically, Dubai has one airport with three terminals. Every terminal is large enough to be a separate airport. Terminal 3 is for Emirates Airline exclusively. Terminal 1 mostly for budget airlines and Terminal 2 is for all the rest.
Parts for the new Boeing 787 Dreamliners are manufactured at Al Ain's aerospace hub.
China is Dubai's largest international trading partner, followed by India, followed by the United States.
25% of the world's operational cranes are located in Dubai.
On April 23, 2011, the UAE sent it's first satellite into orbit on through European Space Agency to provide enhanced telecommunications services orbiting at 36000 Km above earth.
Dubai Duty Free is the busiest travel retailer in the world, with sales worth $1.5 billion per year. Perfumes account for 15 %.
Khalifa Industrial Zone Abu Dhabi officially opened with an area larger than the entire island of Singapore for trade. It will be the largest container port in the region.
More than a half a million cruise passengers dock at the luxurious Dubai Cruise Terminal at Port Rashid each year.
Dubai has the biggest container port in the Middle East, Port Jebel Ali, located on the world's largest man-made harbor.
By Amazing Facts 4U Team
Share your thoughts on what this post means to you...
comments