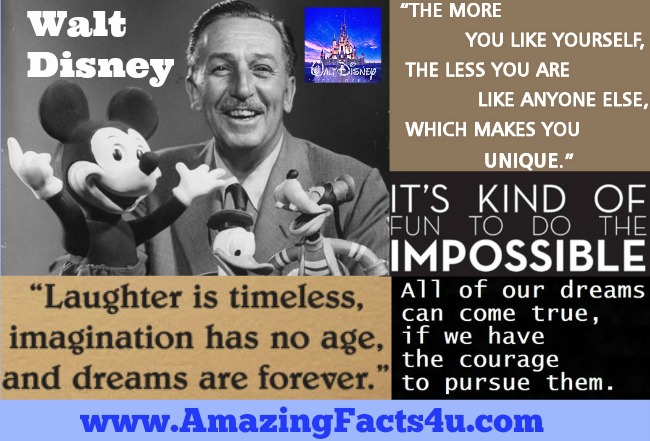 40 Amazing Walt Disney Facts | Amazing Facts 4U 
Personality
Walt Disney's own childhood wasn't all that happy. His father Elias was a strict disciplinarian and Walt and his older brother Roy were beaten very often.
When the U.S. entered World War I Roy Disney was quick to enlist. Walt wanted to join, too, but at sixteen he was too young to join.
Walt Disney left school to join army but the recruiter at the Red Cross was skeptical wanting to check Walt's birth certificate. He was shocked to discover that Cook County had no record that he was born in Chicago on December 5, 1901. He forged his parents' signatures on the Red Cross form and put his date of birth as December 5, 1900 and His application was accepted.
He got shipped over to Europe, where he chauffered military personnel around Germany and France and got to drive a few ambulances. He also started smoking for the first time, a habit he never broke.
One of Walt Disney's hobbies was building trains. He once built an entire 1/8 scale steam railroad in his backyard. The railroad is now on display in Disneyland's Main Street Station.

Amazing fact

is when Walt was younger he was hired to work at the Kansas City Star newspaper. He was later fired from the paper because of lack of creativity. Years later The Disney Company bought ABC which owned The Kansas City Star.
Walt Disney felt guilty over the death of his own mother Flora in 1938 who tragically died from carbon monoxide poisoning due to a faulty heating system in a newly bought home.
Walt Disney beginning about 1940 worked as an informant for the FBI. As head of his own movie studio, he would go to fundraisers or other Hollywood social gatherings and report to a Special Agent in Charge as to what people he thought were engaged in subversive activities.
Disney was an invaluable FBI asset up until the end of his life. After his death, FBI director J. Edgar Hoover personally sent a telegram to Disney's widow Lillian expressing his condolences.
In 1951, Thelma Howard  became employed as a live-in housekeeper for the Disney family and served them for 30 years. Walt Disney would give Thelma shares of stock in his company as holiday gifts. At the time, they were worth pennies, but over the course of decades, they rose astronomically in value. Thelma retired in 1981 and died in June 1994. Amazingly her estate was worth in excess of $9 million.
The signature that graces Walt Disney's theme parks and films is probably one of the most recognized signatures in the world but it really isn't Disney's. It's what the company describes as a "stylized version". There's some question as to whether Disney was ever able to produce the famed signature on his own.
Walt Disney died of Lung Cancer on December 15 , 1966 , possibly a result of lifelong smoking.
Cartoons & Films & TV
One of the many innovations introduced by Walt Disney was the first color cartoon called Flowers and Trees in 1931.
Walt Disney Studios was founded in the summer of 1923.
Walt Disney produced a series of cartoons entitled "Alice in Cartoonland", which combined live action and animation. These cartoons were made long before Mickey.
Amazing fact is that Mickey Mouse's original name was Mortimer Mouse, but Walt's wife thought the name sounded "pompous" and made him change it.
Amazingly Walt Disney was the voice of his most famous character, Mickey Mouse, for over 20 years.
Walt Disney's Snow White and the Seven Dwarfs was the first ever full length animated movie to be released.
Amazing fact is there were approximately 750 artists who took part in the making of Snow White and the Seven Dwarfs in the days when computers were unknown and everything was manual.
He was determined to produce a feature-length animated movie, even when everyone thought the idea was crazy. Industry insiders were convinced his efforts would fail, calling the project "Disney's Folly." Disney in fact run out of funding during Snow White's production and got additional financing after a hard bargain. Luckily for both Disney and his creditors, Snow White turned out to be a smashing success. The film earned over $8 million during it's initial release , about $130 million today.
Besides being the mascot of the company, Mickey Mouse is the most commonly used image in the world. It can be found on many different items, such as mugs and glasses, clocks, clothing items etc. According to statistics, the number of different Mickey Mouse items is larger than 7,500.
Between 1932 and 1969, Walt Disney amazingly won 22 Academy Awards and was nominated 59 times for oscar more than anybody in history.
Walt Disney also couldn't draw original Mickey Mouse. He had drawn up the initial plans, but the character itself was ultimately the creation of one of Disney's animators, Dutchman Dutch man Ub Iwerks..
All of the 90′s Disney movies are from a period called the Disney Renaissance, which was considered to have started with The Little Mermaid (1989), and ended with Tarzan (1999), wherein Disney made $3.9 billion dollars worldwide.
Amazing fact is Sulley from Monsters Inc has more than 2.3 million individual hairs, which are all carefully animated. This explains why a single frame of the big blue fella took an average of 12 hours to produce.
Simba is Sri Lankan Swahili for 'lion', while Bhalu is Hindi for 'bear'.
Amazingly Wayne Anthony Allwine, who was the voice of Mickey Mouse for 32 years fell in love with Russi Taylor, who played Minnie, in 1991. The two remained happily married until his death in 2009.
A movie called "Escape from Tomorrow" (2013) was filmed in its entirety in Disney World, without Disney knowing about it. The actors read their scripts off of cell phones to keep themselves hidden.
Surprisingly the Disney Channel doesn't accept any outside ads. The only commercials it airs are for its own shows and Disney products.
Amazingly Mary Poppins, author P.L. Travers hated the film Adaption of her book so much that she spent most of the premiere crying and refused to let Disney touch the rest of the series.
Three of the five biggest money losing movies (Mars Needs Moms, The Lone Ranger & John Carter) in history were produced by Disney for a total loss of $366 million.
Walt Disney hired 11 dwarfs for the premiere of Pinocchio to dress up like the puppet and greet children.
Disney was so eager to persuade Robin Williams for the voice of the genie in Aladdin that before approaching him, they animated and lip synced the genie doing a performance from Robin's album Reality. Williams was impressed and immediately accepted the role.
Robin Williams only made $75,000 for voicing the Genie in Aladdin, which went on to gross over $200 million domestically. Disney later sent him a Picasso painting as a way of thanking him for his work.
The Lion King is now the highest-grossing hand drawn film in history.
Walt Disney was presented with one normal sized honorary Oscar and seven little Oscars for Snow White and the Seven Dwarves in 1938.
Tasked with creating the Beast, supervising animator Glen Keane took inspiration from the zoo, blending the mane of a lion, the horns and head of a buffalo, the eyebrows of a gorilla, the tusks of a wild boar, the upper body of a bear, and the legs and tail of a wolf to create the rather likeable Beast.
The final film Walt Disney personally oversaw was The Jungle Book, before his death.
Amazing fact is that the two minute storm in The Little Mermaid took 10 special effects artists over a year to finish.
Kathryn Beaumont voiced Alice from Disney's Alice in Wonderland at the age of 13 and over 50 years later voiced Alice again in Kingdom Hearts at the age of 64.
By Amazing Facts 4U Team
Share your thoughts on what this post means to you...
comments