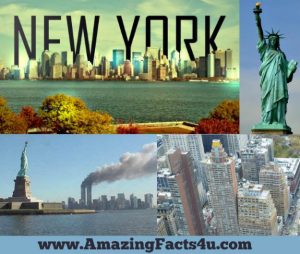 50 Amazing and Interesting Facts about New York (Part 2) | Amazing Facts 4U 
An average of 5 million people ride the New York City subway each weekday.
The New York City subway system runs 26 routes with 6,200 subway cars that stop at 468 different subway stations.
Amazingly about 800,000 companies operate in New York City.
Karl Marx was a journalist for New York Daily Tribune and wrote a lot of articles on events that took place in Europe.
Jon Stewart proposed to his wife through a personalized crossword puzzle created with the help of the crossword editor, Will Shortz, at The New York Times.
The September 11, 2001, terrorist attacks on the World Trade Center in New York City were the worst single foreign assault on American soil. The attack was the nation's deadliest tragedy for U.S. firefighters, and 2,753 people in total lost their lives.
Amazingly New York Times wrote an article about each individual September 11th victim.
New York's Tappan Zee Bridge, on which 140,000 people drive daily, is so structurally unsound that New York State aides refer to it as the "hold-your-breath bridge".
There are no Wal-Marts in New York City due to intense opposition from local unions and politicians.
There is a 'ghost town' in New York City called "The Hole". It is an area of Queens built too close to the water table. It is mostly abandoned, usually flooded, and was once a body-dumping ground for the mafia.
There is a waterfall in Chestnut Ridge Park of New York which curtains an 'eternal flame' – a natural gas leak, which visitors keep lit all year round.
Parts of New York City have a vacuum-driven garbage-collection system that literally sucks garbage through the pipes, under the streets to a central disposal location. It has been in operation for 45 years.
Amazingly in 1973, New York residents, Mike Kekich and Fritz Peterson held a press conference to announce they had "traded lives." This included the exchange of wives, children, and dogs.
USS New York battle ship was built with 24 tons of steel salvaged from the World Trade Center to commemorate the victims of 9/11.
Amazing fact is that in New York City, for the last 50 years, the price of a slice of pizza and that of a subway ride have been nearly exactly the same and a rise in the price of one predicts the rise in the price of other.
The imperial House of Bonaparte continues to keep track of Napoleon's bloodline. If France ever decides to put power back into the hands of the dynasty, the present Emperor would be Jean-Cristophe, Prince Napoleon, presently an investment banker in New York City.
Madison Square Park, Washington Square Park, Union Square Park, and Bryant Park used to be cemeteries. There are 20,000 bodies buried in Washington Square Park alone.
It can cost over $289,000 for a one-year hot dog stand permit in Central Park.
The city of New York will pay for a one-way plane ticket for any homeless person if they have a guaranteed place to stay.
Amazingly on Nov. 28, 2012, not a single murder, shooting, stabbing, or other incident of violent crime in New York City was reported for an entire day.
Both Theodore Roosevelt and Franklin Roosevelt were born in New York.
The New York City Marathon draws up to 50,000 runners annually, and travels through all five boroughs.
The Museum of Modern Art is one of the finest museums in the world, and displays important pieces from around the globe.
The Bronx Zoo in New York is the largest city zoo in the United States with over 500 species and 4,000 rare animals.
The New York Aquarium, located on Coney Island, provides visitors with the opportunity to see sea creatures up close.
The New York Botanical Gardens allow residents and visitors to see beautiful plants and flowers of all types.
The ice cream cone was invented in New York City.
Many of New York City's restaurants rank among the most expensive in the world. Some cost an average of $400 or more per person.
It costs $1 million to get a license (medallion) to operate a taxicab.
There's a man who mines sidewalk cracks for gold. He can make over $600 a week.
Up until 1957, there was a pneumatic mail tube system that was used to connect 23 post offices across 27 miles. At one point, it moved 97,000 letters a day.
UPS, FedEx, and other commercial delivery companies receive up to 7,000 parking tickets a day, contributing up to $120 million in revenue for the city of New York.
60 % of cigarettes sold in NYC are illegally smuggled from other states.
New York City's 520-mile coastline is longer than those of Miami, Boston, Los Angeles, and San Francisco combined.
McSorley's, the oldest Irish ale house in NYC, didn't allow women inside until 1970.
There's a 150-foot-deep hole (15 stories) on Park Avenue between 36th and 37th streets.
The nitrogen gas tanks you see on the corners of streets are used to keep underground telephone wires dry.
New York sets train tracks on fire to keep them free of ice in the winter.
More people in New York die of suicide than murder.
New Yorkers drink 7 times more coffee than people in the rest of America.
Amazingly New Yorkers bite 10 times more people than sharks do worldwide each year.
Adirondack Park in northeast New York has 6 million acres, making it the largest national park in the United States. It is larger than Yellowstone, Glacier, Everglades, and Grand Canyon National Parks combined.
The world's smallest church is found in Oneida, NY. The Cross Island Chapel is 51″ x 81″, making it large enough to sit two people.
As landfills in New York have begun to fill up with waste, garbage has been shipped to other nearby states. New York city alone sends a 9-mile-long fleet of trucks of trash each day to sites up to 300 miles away.
The New York Public Library has over 50 million books and other items and is the second largest library system in the nation after the Library of Congress.
The first railroad in the United States ran 11 miles in New York, from Albany to Schenectady.
Both the game of Scrabble and the Teddy Bear were invented in New York!
It is illegal to wear masks in public gatherings of two or more in NYC.
With the decline of rail travel at the end of the 1940s, in 1954 there were plans to demolish Grand Central Terminal and replace it with an 80-story office tower that would be taller even than the Empire State Building. But with much protest and after Grand Central became a Historic Landmark, the station was saved and the Pan Am/Met Life building built instead.
In 2018 NYC will open the world's first underground park.
By Amazing Facts 4U Team
Share your thoughts on what this post means to you...
comments